Writing Awards May 2020
Honoring outstanding students and instructors for the 2019-2020 academic year.
Congratulations Graduates!
While we wish we could celebrate with a regular pomp and circumstance, here is a slideshow of our Majors and Minors. Graduates are from Fall 2019, Spring 2020, & Summer 2020.
Can't watch the video? Check out the slides on this pdf
Excellence in Writing & Research Awards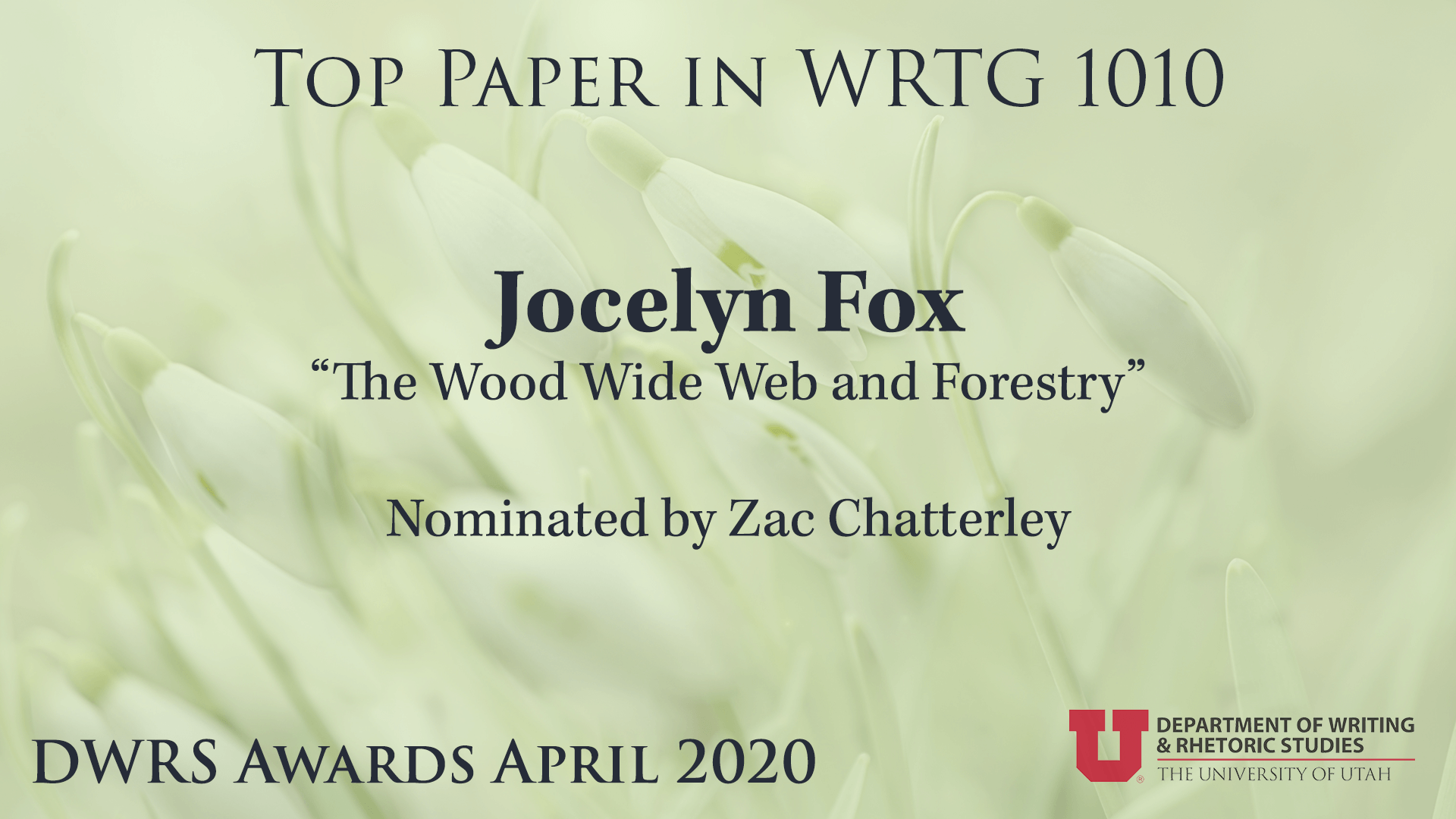 Winner: Jocelyn Fox
Paper: "The Wood Wide Web and Forestry"
Nominated by: Zac Chatterley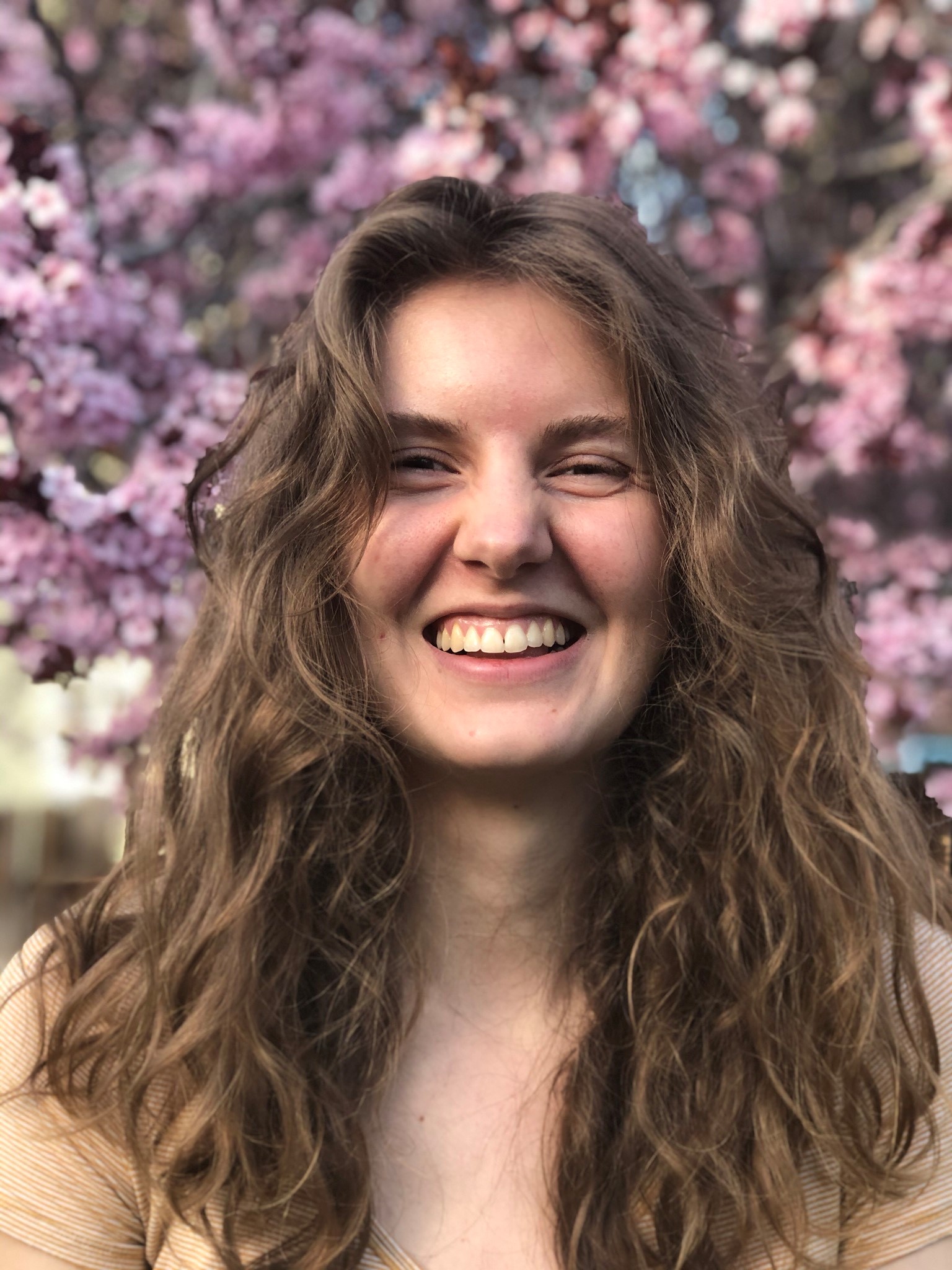 I'm majoring in Environmental and Sustainability Studies emphasis on Land Management, Conservation, and Place as well as a minor in French. I had made a goal that I was going to use the opportunity to choose the topic in order to learn how to write a strong and fact-based argument in favor of protecting the environment. I based the paper off of a podcast about trees communicating with each other through their roots that my professor had recommended.
I did further research finding there was a lack of this new-found science being incorporated within the forestry industry and I wanted to call attention to the issue as protecting forests is highly important to a healthy environment.
I plan to go on and get my master's degree in architecture and one day have my own sustainably-based architecture firm focusing on preserving ecosystems, incorporating clean energy sources, using building techniques to reduce needed energy use, re-purposing materials where possible, and reducing the large amount of waste produced in construction.
I would also love to either re-purpose a bus or build a tiny house on wheels after I get my bachelor's degree and travel.
Jocelyn Fox was among the most impressive students I had this year. She's conscientious and thoughtful, and she wrote some of the best student writing I read last semester. I requested her permission to use one of her papers as an example for future classes.
Jocelyn is majoring in Environmental and Sustainability Studies at the U. Her interest in advocating for the environment was obvious in several of the papers she wrote for my class.
Her paper "The Wood Wide Web and Forestry" shows an interest in both the science and the ethics of maintaining environmental integrity. The paper not only has impressive and well-described substance, but it's also beautifully written.
I'm extremely happy that she won an award for it, as it was the product of hard work, commitment, and careful thought. The award is well-deserved.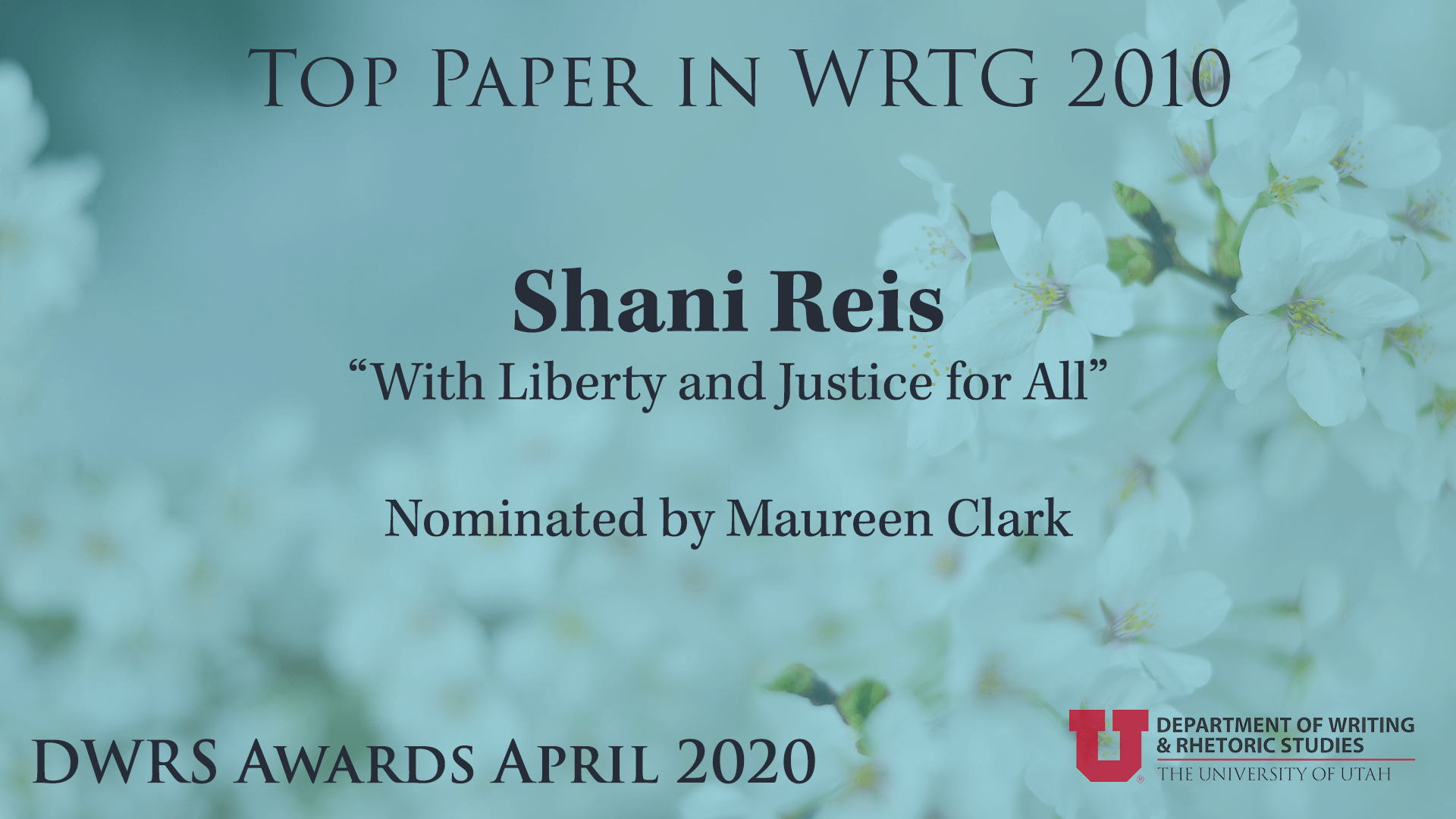 Winner: Shani Reis
Paper: With Liberty and Justice for All
Nominated by: Maureen Clark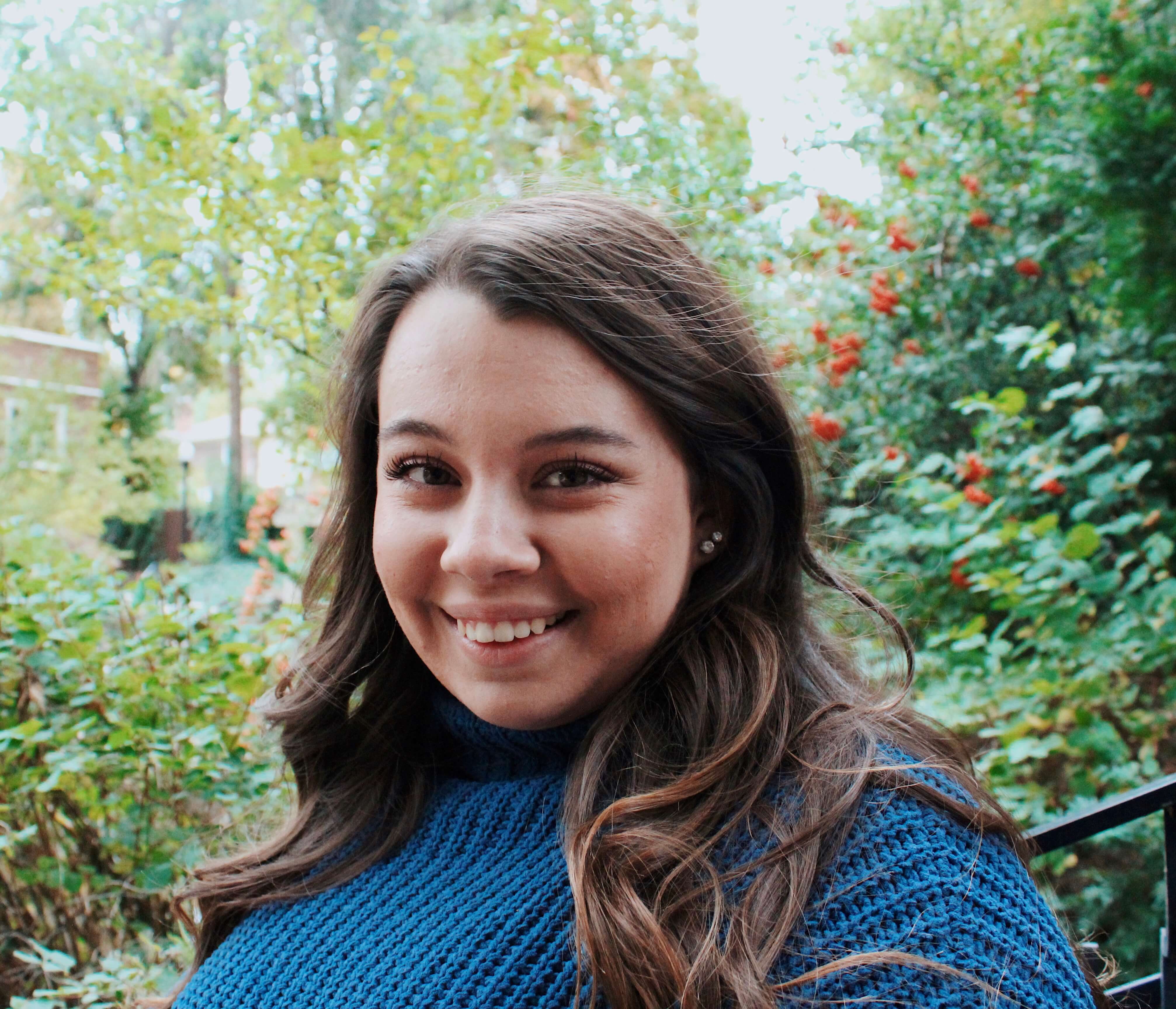 I am a student, learner, and explorer currently pursuing a Bachelor's degree in Strategic Communication and International Studies at The University of Utah.
I chose to write "With Liberty and Justice For All" about the historical and current oppression of indigenous peoples in the US because I am passionate about remembering forgotten parts of history, and advocating for natives and other minority groups.
In my freetime, I enjoy playing guitar, reading, and spending time outside. I have a deep love for learning and am blessed to be pursuing that at The University of Utah!
"With Liberty and Justice for All" is probably the best 2010 paper I've ever received. Shani Reis is passionate about the topic of changing how we teach history so that it includes all the stories. She was dedicated to making sure this paper reached her audience with just the right amounts of fact, evidence and emotion.
I am very proud of her and respect her work to change the way we teach history in this country. I hope this paper will be the start of making our national story match our actual history.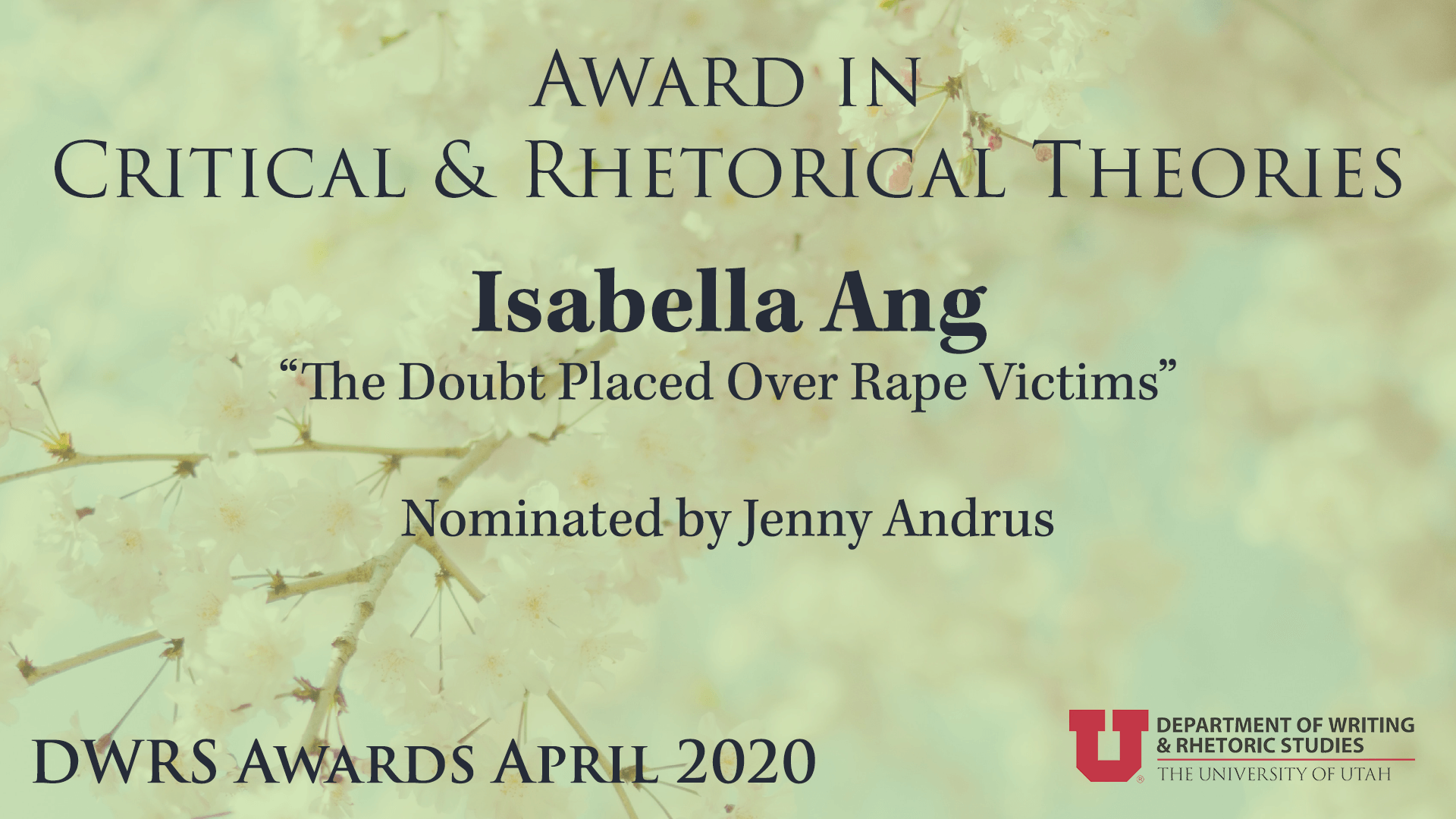 Winner: Isabella Ang
Paper: The Doubt Placed Over Rape Victims
Class: WRTG 4905
Nominated by: Jenny Andrus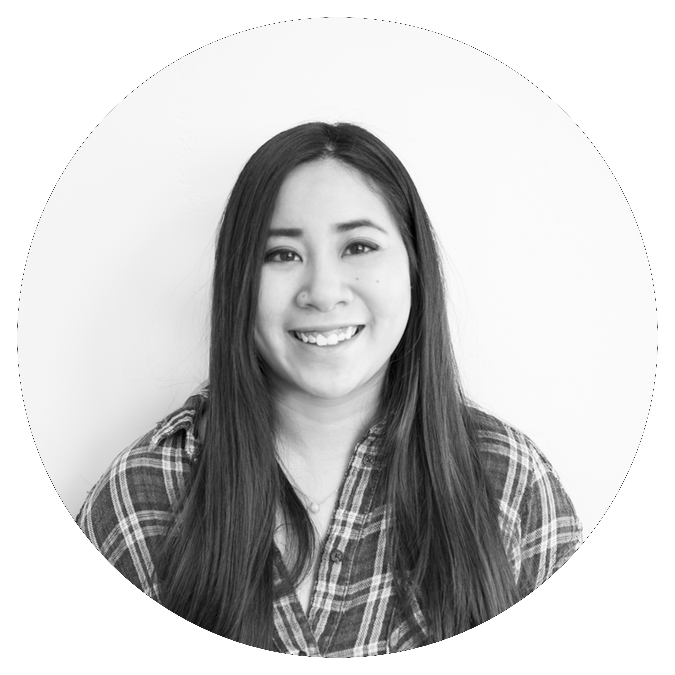 Isabella Ang is a senior student attending University of Utah majoring in Writing & Rhetoric Studies with a minor in Sociology. She is an avid Netflix binge watching, slot canyon rappelling, food loving, Utah native.
Her paper, "The Doubt Placed Over Rape Victims" is a discourse analysis that analyzes different rape narratives and statements on which victims are often blamed and casted with doubt by both the court and their attackers. She is passionate about feminist rhetoric and working with sexual assault victims--both of which served as inspiration for her paper.
The paper was motivated by the outrageous, but prominent rhetoric that exists in our culture concerning placing blame on sexual victims for being who they are. After she graduates, she plans on pursuing a law degree in which she can focus her passion on this subject to make an impact on this injustice.
Isabella Ang is one of the most gifted students with whom I have had the pleasure of working, during my decade long career at the University of Utah. It has been my great pleasure to have her in two classes, both on law and language. I have never had a student take to the legal content, like Isabella has.
Even more impressive is her aptitude with discourse analysis, an analytical method that is new to her. She takes both legal discourse and discourse analysis together in the paper that won the award this year, "The Doubt Placed Over Rape Victims." In this paper, she deftly applies discourse analytical concepts and tools to legal discourses regarding rape, in order to come up with a convincing argument that the stories and reasoning of rape victim/survivors are framed as doubtful.
By analyzing statute and code, as well as legal opinion, Isabella shows how legal discourse negatively positions rape victim/survivors, discursively establishing them as the "bad guys." Those accused of rape are granted more leeway, Isabella argues, and are able to control the contextualization of their actions in the courtroom, such that the law validates their behavior and frames it as acceptable.
In this paper, Isabella operationalizes a sophisticated combination of discourse analytic concepts, such as entextualization and recontextualization, in order to make a complex and nuanced argument about rape victim/survivors and perpetrators. I am hard to impress, but Isabella impressed me for an entire academic year and continues to impress me. I am so happy to have had the opportunity to be her professor. Indeed, it is one of the great honors of my career.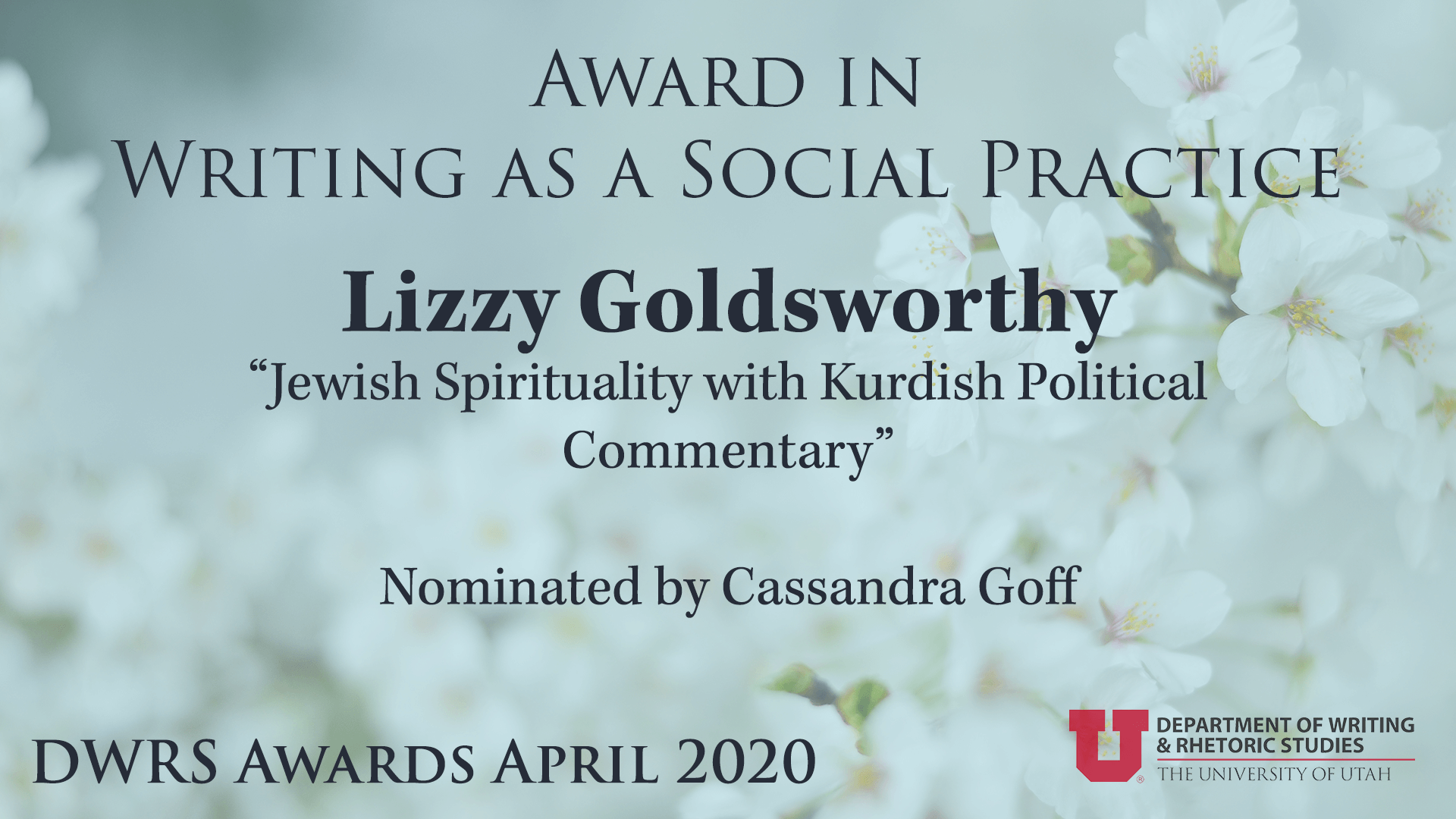 Winner: Lizzy Goldsworthy
Paper: Jewish Spirituality with Kurdish Political Commentary
Class: WRTG 2010
Nominated by: Cassie Goff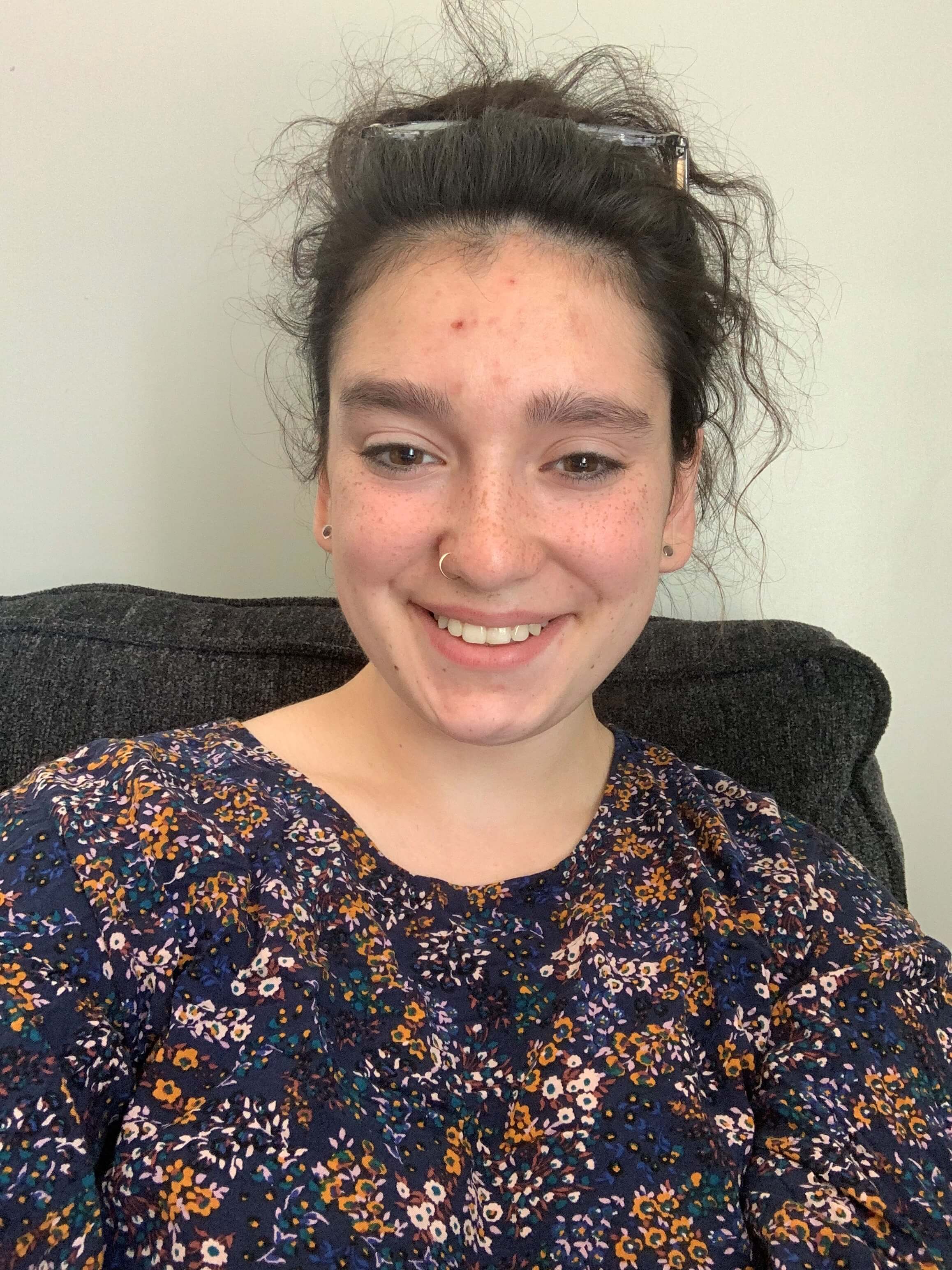 I'm a Middle East Studies major, and I'm minoring in Arabic and Special Education. I wrote this piece as a project continuing off of a research paper I wrote for Cassie Goff's WRTG 2010 gen ed class comparing Jewish nationalism, also known as Zionism, to Kurdish Nationalism.
I decided I wanted it to look like the commentary a person would read in a Siddur (plural Siddurim), a Jewish prayer book. Each prayer is for a different ritual, feeling, or daily task, and most Siddurim include short pieces or poems to add more meaning. Each page in my project has a Jewish spiritual or kabbalistic interpretation, and a Kurdish political commentary relating to the main meaning of the prayer.
I hope to graduate next spring, and work for the government as a linguist, and then be a special education teacher or advocate in an area that needs support.
Eventually, I'd like to finish the Special Education master program here at the U, then go to Yeshiva University for their Sephardi Jewish Studies masters program, or Middlebury College for their Arabic PHD program.
In my spare time I like to play with my dog, bake and cook, read, knit, and do outdoorsy things. My favorite plant is the African Violet and my favorite band is The Grateful Dead. I've been playing the violin since I was 4 and I also play the flute. My favorite ballet is Don Quixote.
Woo! Yay! Applause!
Lizzy created "Jewish Spirituality with Kurdish Political Commentary" in our WRTG 2010 course last year. Through her project, Lizzy explores Kurdish Jewish identities through explicating the Jewish prayerbook relating to Kurdish nationalism.
Even though the scope of this project seemed a bit insane, her words not mine, I'm so pleased that Lizzy persisting in completing this really important work.
Lizzy — thank you for sharing many experiences with me. And thank you for teaching me so much about Kurdish nationalism throughout our semester together.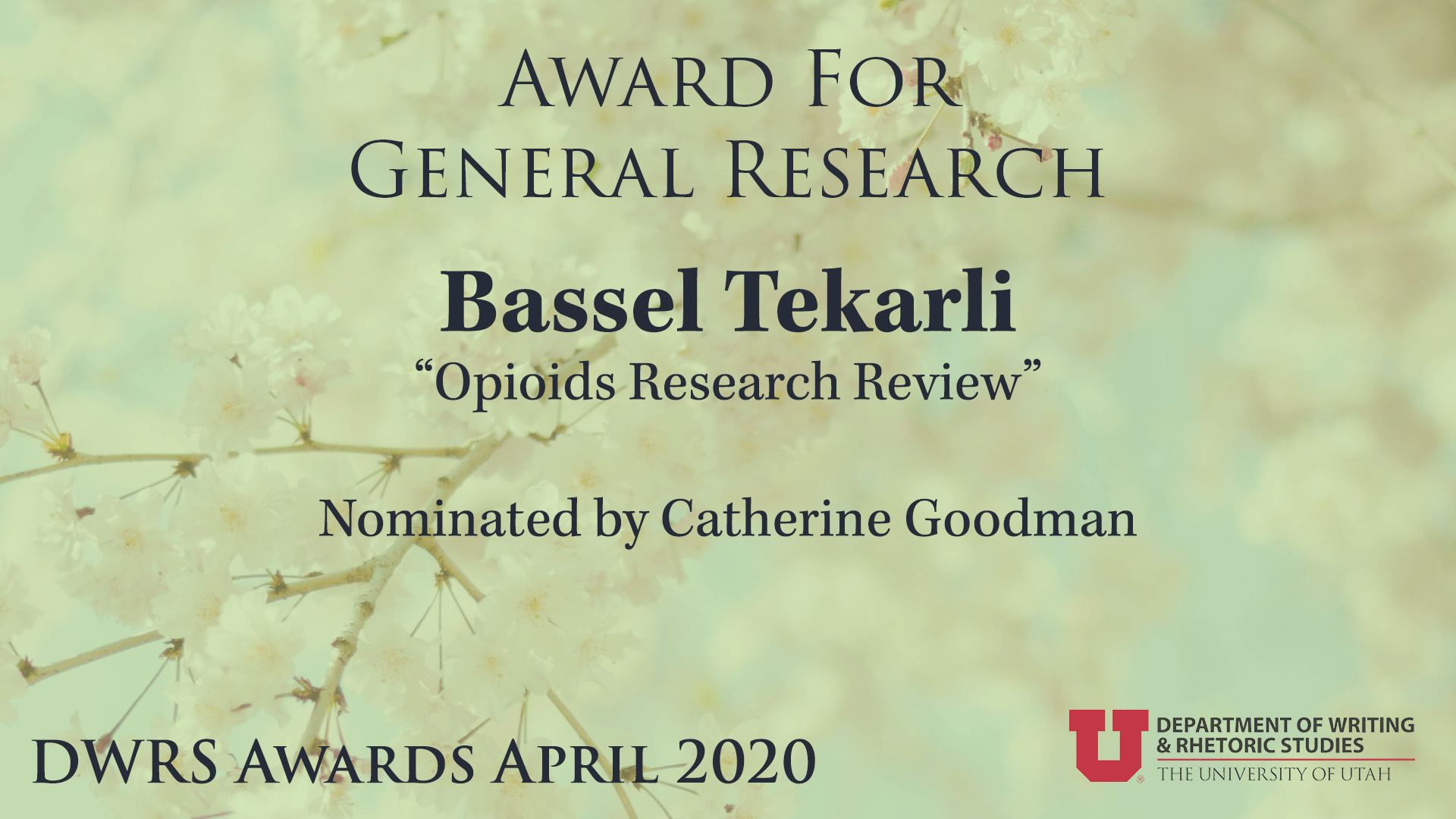 Winner: Bassel Tekarli
Assignment: Opioids Research Review
Class: WRTG 3014
Nominated by: Catherine Goodman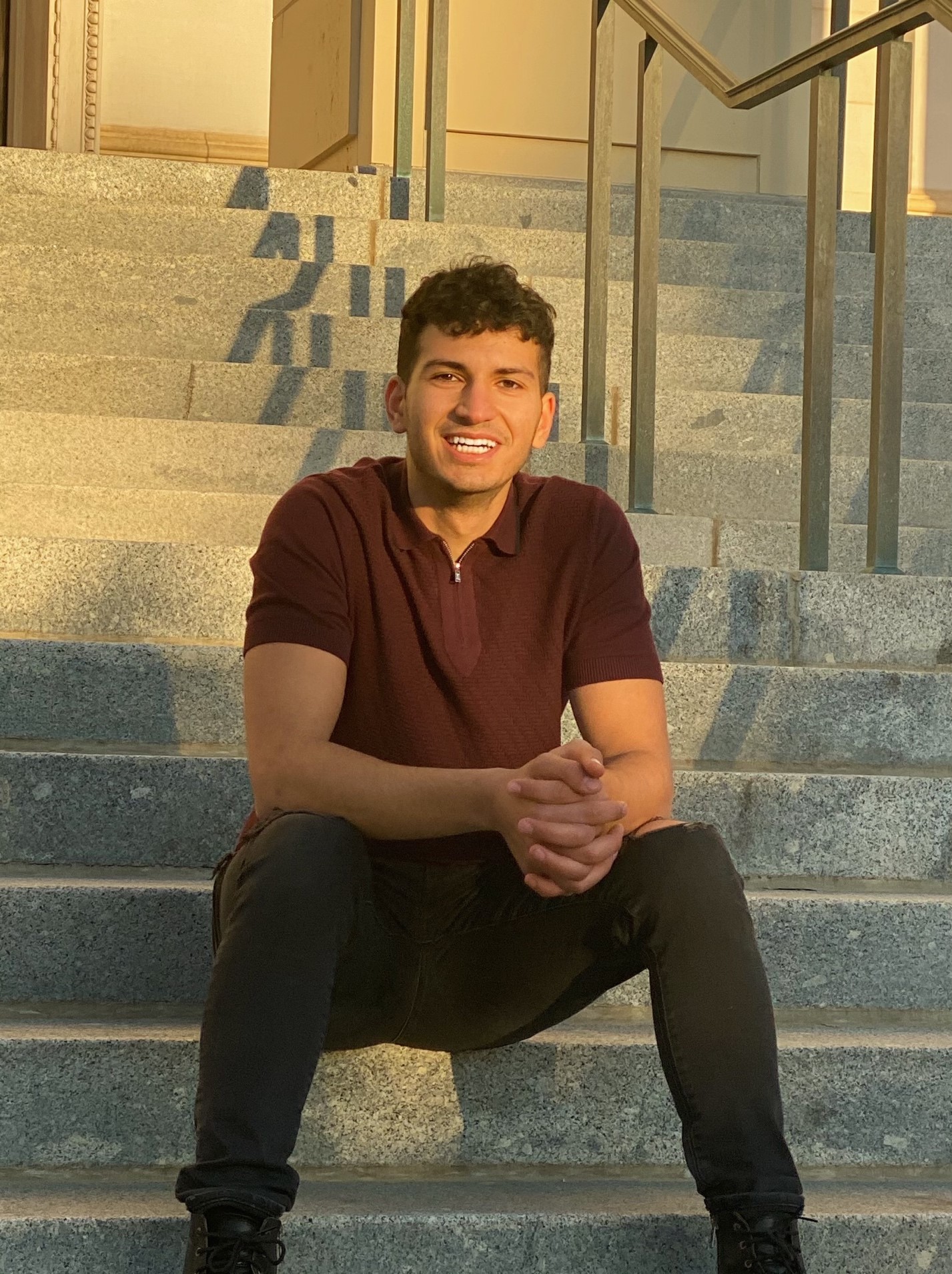 My name is Bassel Tekarli, and I am a double major in Mathematics and Chemistry with an emphasis in biology. I have enjoyed my area of study and aspire to go to medical school after my undergrad.
Outside of the classroom, you can probably find me playing pick-up basketball at the life center. I also participate in research with the Olivera/McIntosh biochemistry lab, evaluating new receptor targets for pain relief and their interaction with certain peptides. It is theorized that these peptides may be a precursor for safer medication alternatives to opioids. Eager to supplement my knowledge on the topic, I sought to research the history and biology of opioids as well as other analgesic alternatives; this drove the creation of my paper.
I would like to thank Professor Goodman for her guidance during the writing process, and my colleagues at the lab for their assistance.
Bassel is a student in my Spring 2020 WRTG 3014 Scientific Writing course. An energetic, motivated, and curious student, Bassel showed a high level of academic discipline from the start. He achieved a high A grade in my course, while overcoming a number of personal challenges in addition to the major disruption caused by COVID-19 and the March 18 earthquake.
In fact, Bassel and I held a Zoom meeting not long after that quake, and he shared his adjustments to all of these challenges, all while keeping up with a difficult roster of courses and lab assistant work. He was unfailingly cheerful and disciplined, revealing an admirable work ethic and strong character.
Bassel's final paper, "Opioids Research Review" is the product of his acute curiosity about the subject. Bassel refined his focus as his writing progressed, a sure sign of productive research practices, and he followed the research until his curiosity was satisfied. His final review fully explores the historical evolution of modern opioids as well as new treatments for those suffering from acute and chronic pain, especially cancer patients. Bassel's project was well-written, objective, and hopeful, all while maintaining a comprehensive review of available research on the topic.
Well done, Bass!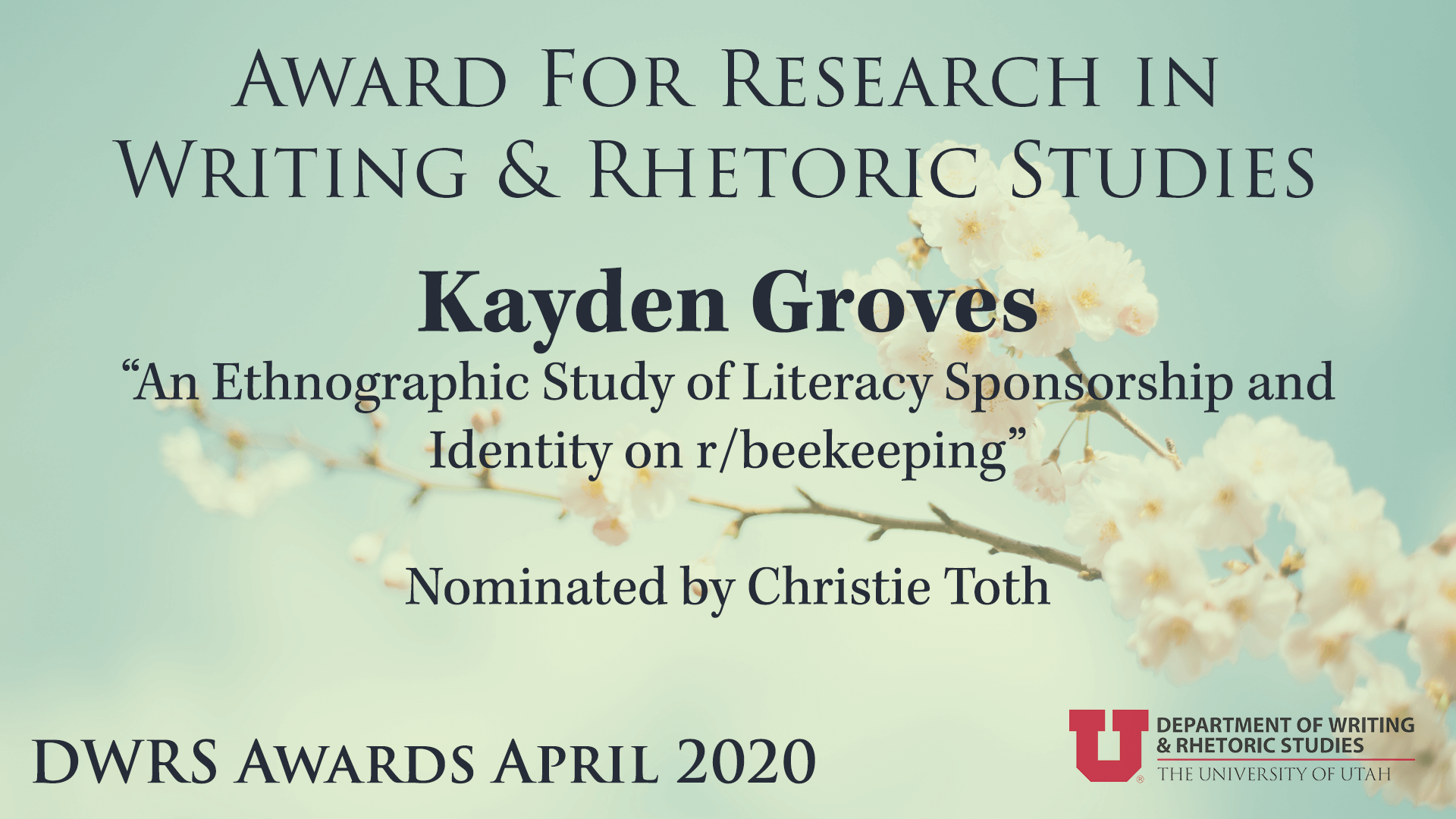 Winner: Kayden Groves
Assignment: An Ethnographic Study of Literacy Sponsorship and Identity on r/beekeeping
Class: WRTG 3870
Nominated by: Christie Toth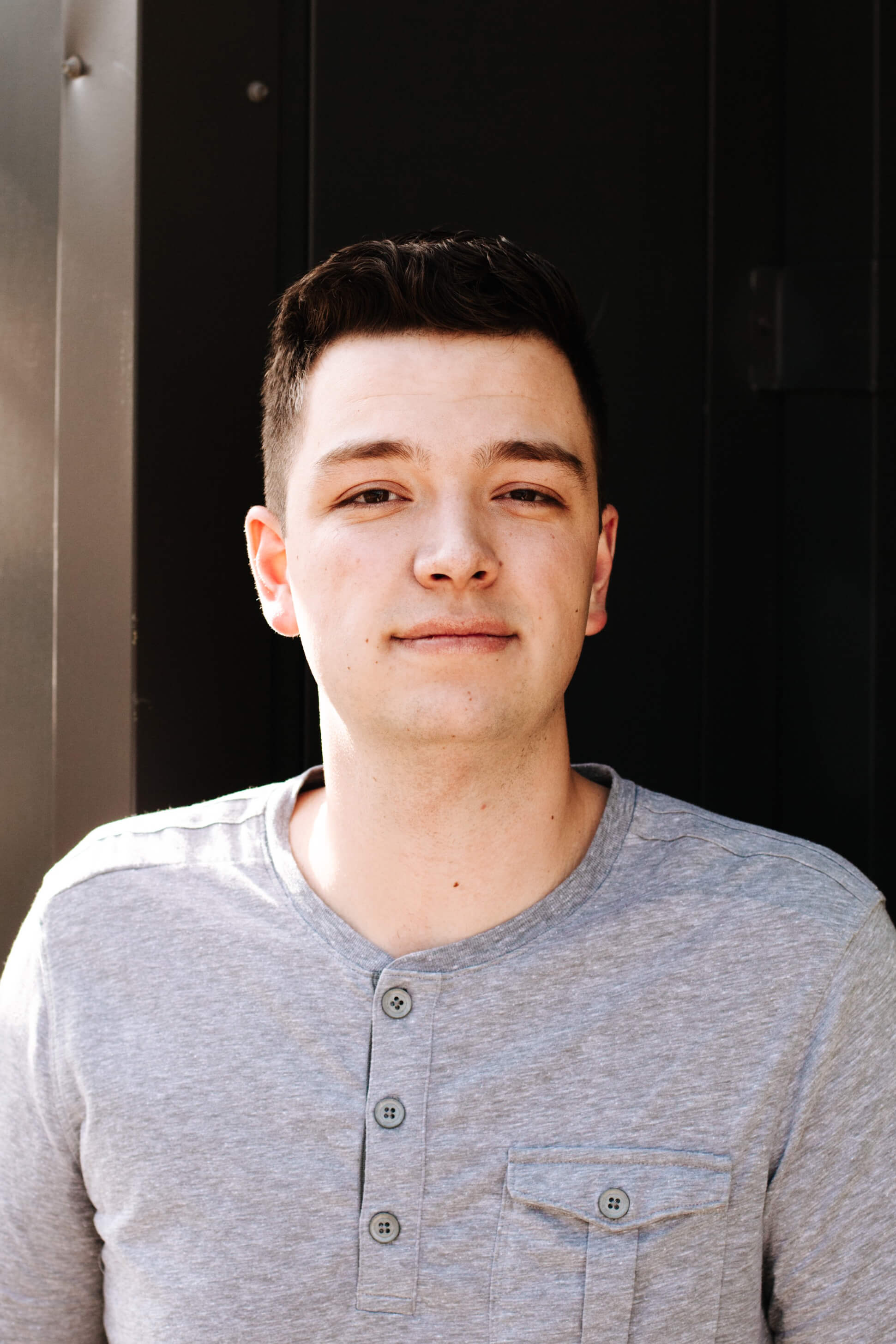 Kayden Groves is a Writing & Rhetoric Studies major at the University of Utah. When he graduates, he plans on pursuing a career in instructional design where he can combine his prior graphic design experience with his passions for writing, accessibility, and learning.
Kayden chose to research the r/beekeeping Reddit forum for his paper "An Ethnographic Study of Literacy Sponsorship and Identity on r/beekeeping" because he has been a hobbyist beekeeper since he asked his parents for a beehive at fifteen.
The paper provided valuable research practice and an opportunity to engage with a global beekeeping community. Kayden currently manages four hives and sponsors beekeeping literacy whenever he can.
I met Kayden in the summer of 2019 in WRTG 3030: Writing Across Locations, our bridge course for students transferring from Salt Lake Community College into WRS as part of the Writing Studies Scholars program. He wrote a wonderful series of projects for that course, and I was delighted when he went on to enroll in my WRTG 3870: Writing as a Social Practice course this fall.
For his final online ethnography project, Kayden wrote this excellent study of the Beekeepers subreddit. With characteristic enthusiasm and attention to detail, Kayden dove into his observation of this community. I particularly loved how his project incorporated his own deep beekeeping literacies and his theoretical interests in the relationships between writing, community, and identity. I also really appreciate the clear conceptual architecture of the final paper.
Kayden did wonderful work on this original research project and I am thrilled that he is being recognized with the Research in Writing Studied Award.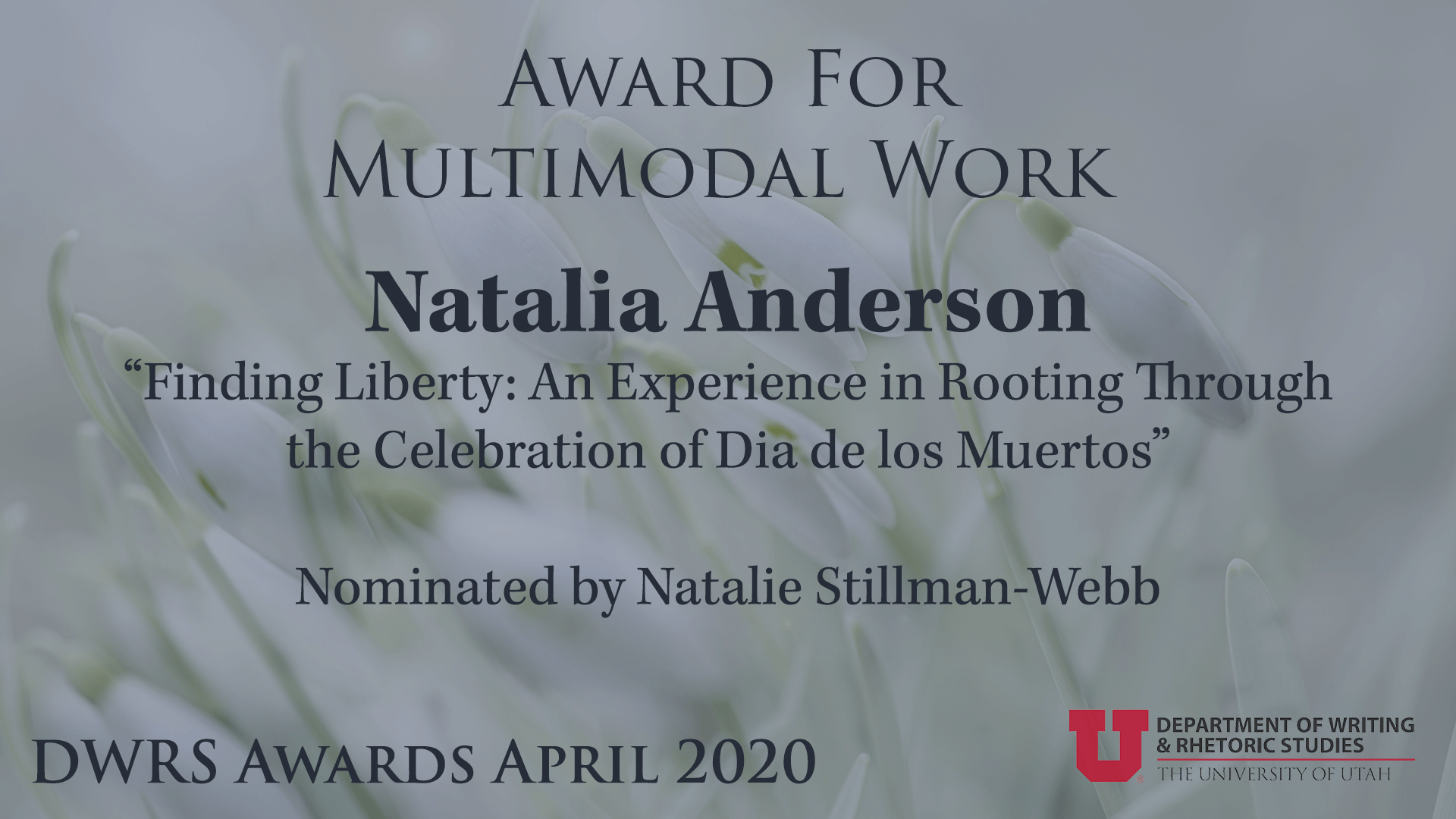 Winner: Natalia Anderson
Assignment: Finding Liberty: An Experience in Rooting Through the Celebration of Dia de los Muertos
Class: WRTG 3040
Nominated by: Natalie Stillman-Webb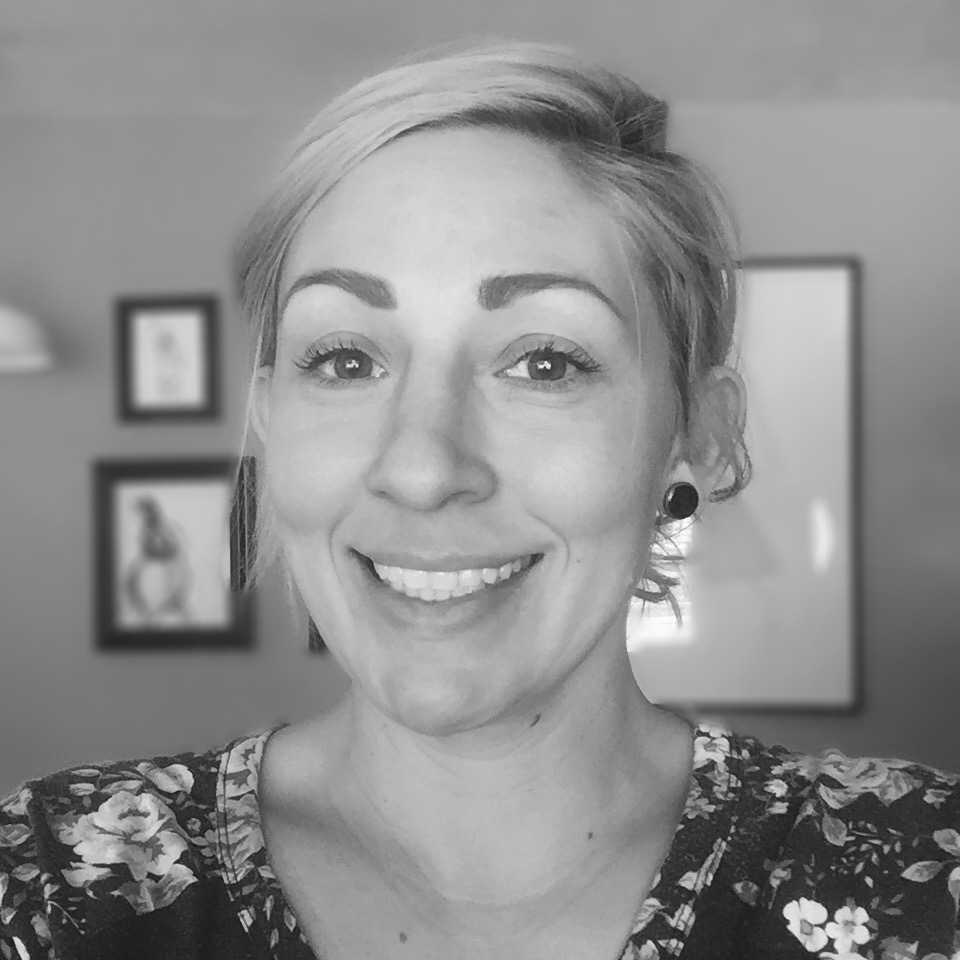 In my digital storytelling class, my peers and I were asked to create a story by combining several modes of communication. I decided to write a narrative about how my heritage intersects with my experience in the death of my daughter when I celebrate Dia De Los Muertos--or Day of the Dead.
I chose this subject because it is important to me but also because the overlapping topics mirrored the scope of the assignment as it allowed me to gather personal collateral as well as pull from an archive of collateral that I gathered through research.
I obtained a degree in graphic design several years ago but decided to return to higher education with the intention of broadening my writing ability and perspective. My goal is to earn a bachelor's degree in Writing & Rhetoric with a minor in Gender Studies.
Although I have no dance training whatsoever, on occasion I can be found trying to mimic Youtube dance routines that are way beyond my skill set.
I am thrilled that Natalia Anderson's project for my Digital Storytelling class has been honored with the Multimodal Project Award.
Her piece, titled "Finding Liberty: An Experience in Rooting through the Celebration of Dia de los Muertos," is a compellingly layered personal narrative that integrates text, video and images. Through these elements, Natalia examines the symbolism of the Day of the Dead holiday and ofrenda, in order to explore how her celebration of the holiday connects her with her Mexican heritage as well as with her daughter, Liberty.
Natalia's writing is informative but also intimate, as it reflects on the relationships between loss and connection, culture and identity.
Excellence in Writing Center Tutoring Award
2019 —
Sunnie Burningham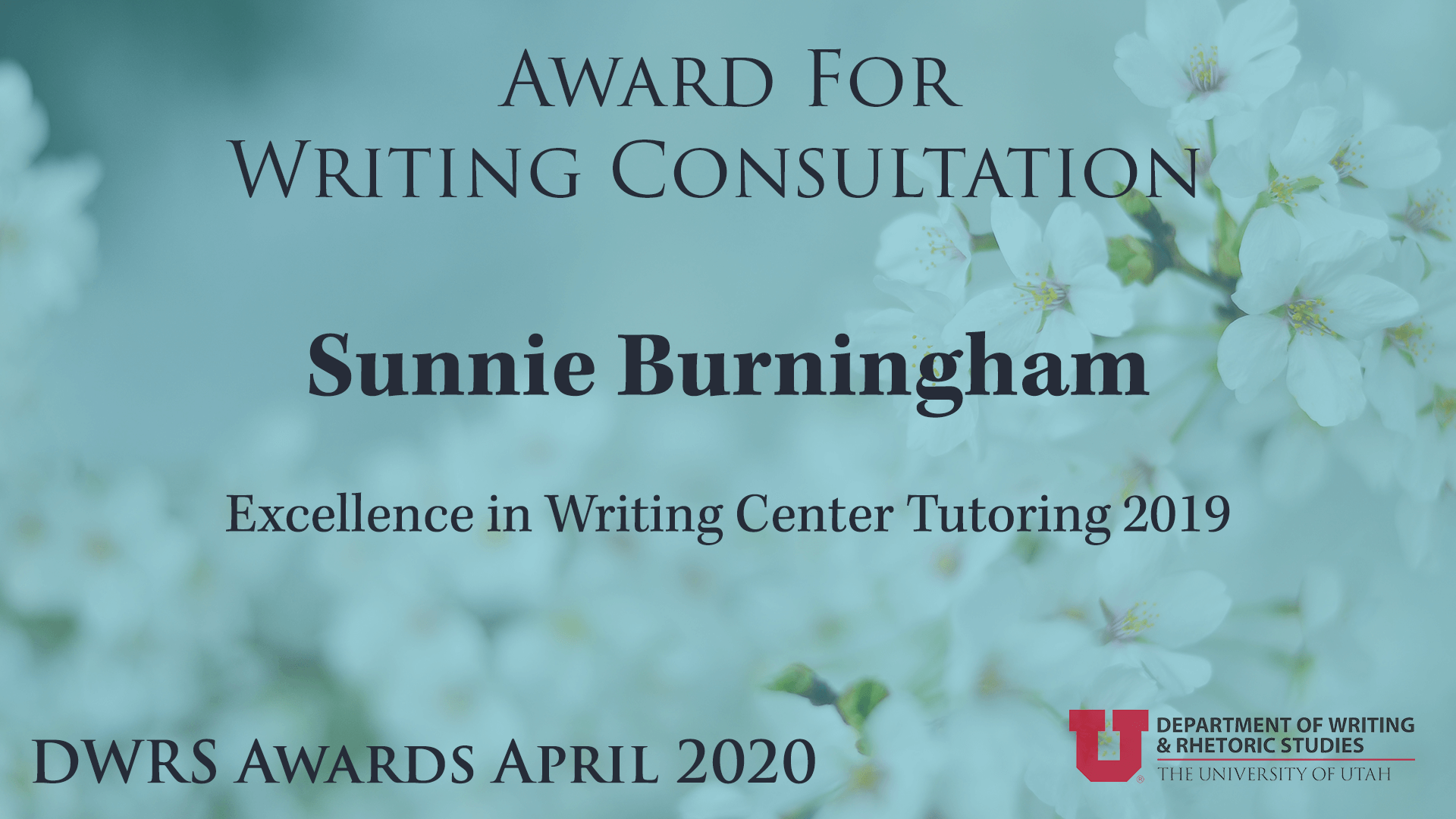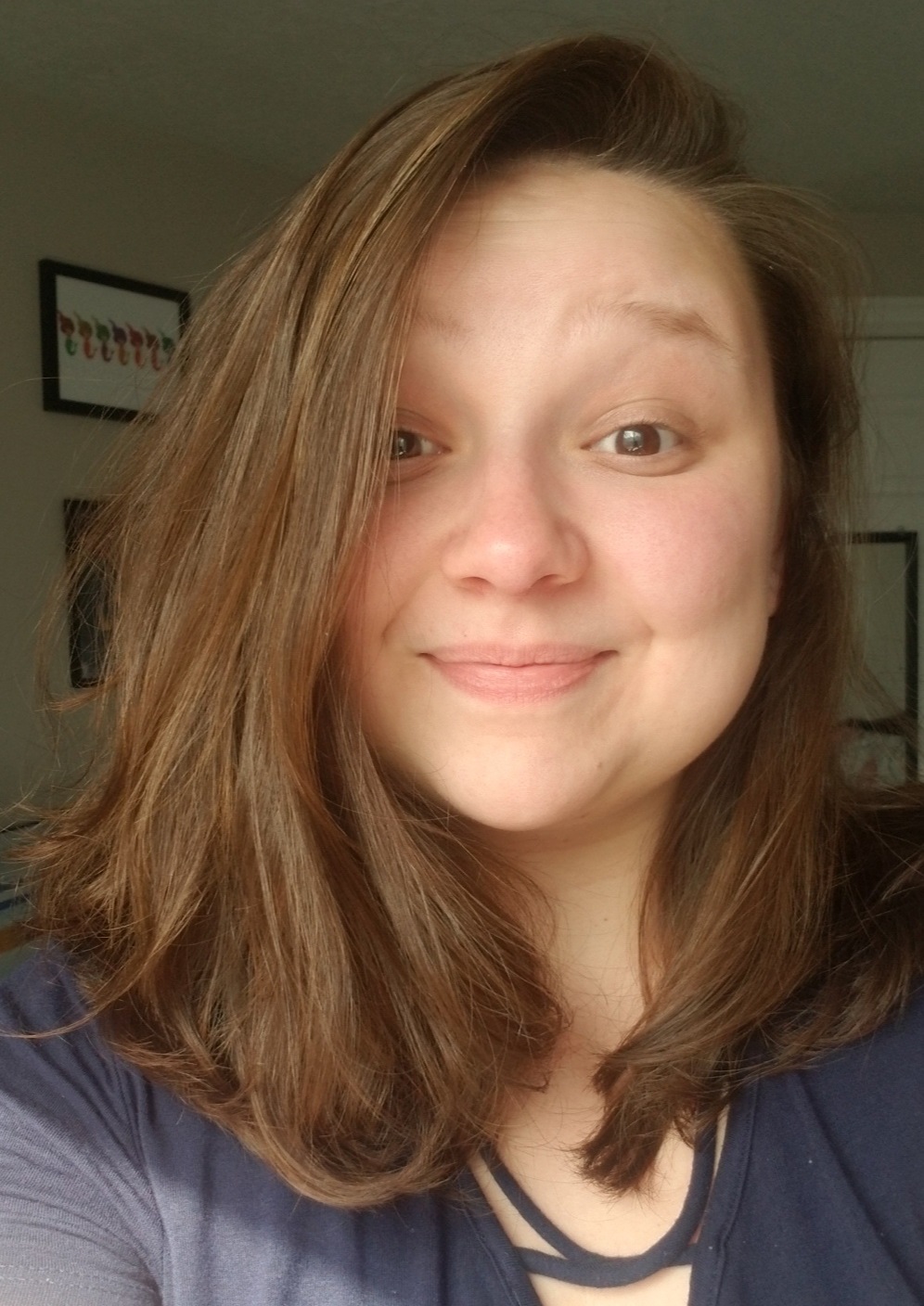 I'm Sunnie Burningham, and my course of study was English.
I've always wanted to go into publishing, and I just got a full time job as an editor, so my goal is to learn as much as possible from this position to prepare myself for what happens next.
2020 —
Abby Christensen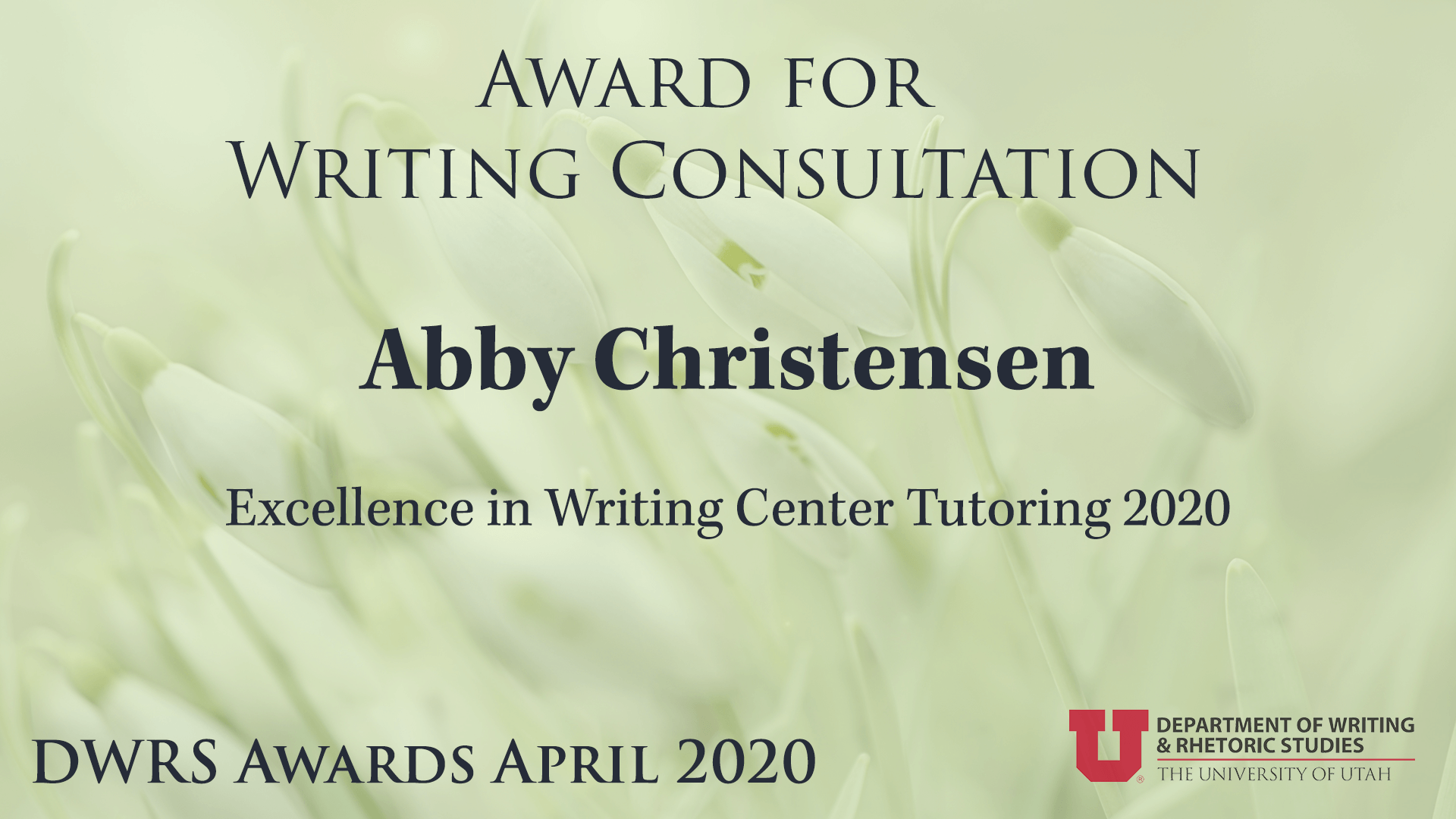 I am Abby Christensen, a student in my final year in the English Teaching Bachelor of Arts. I have spent my time as an undergraduate developing my love for teaching and tutoring.
Working at the University Writing Center has given me the opportunity to build many relationships through collaboration and shared learning.
After graduation, I hope to explore this further in the classroom, as I want to teach English in a high school setting (but only after living in my van for the summer with my spouse and doggo).
Thank you so much, I'm so happy to receive the award!
Instructor Excellence Awards
Sundy Watanabe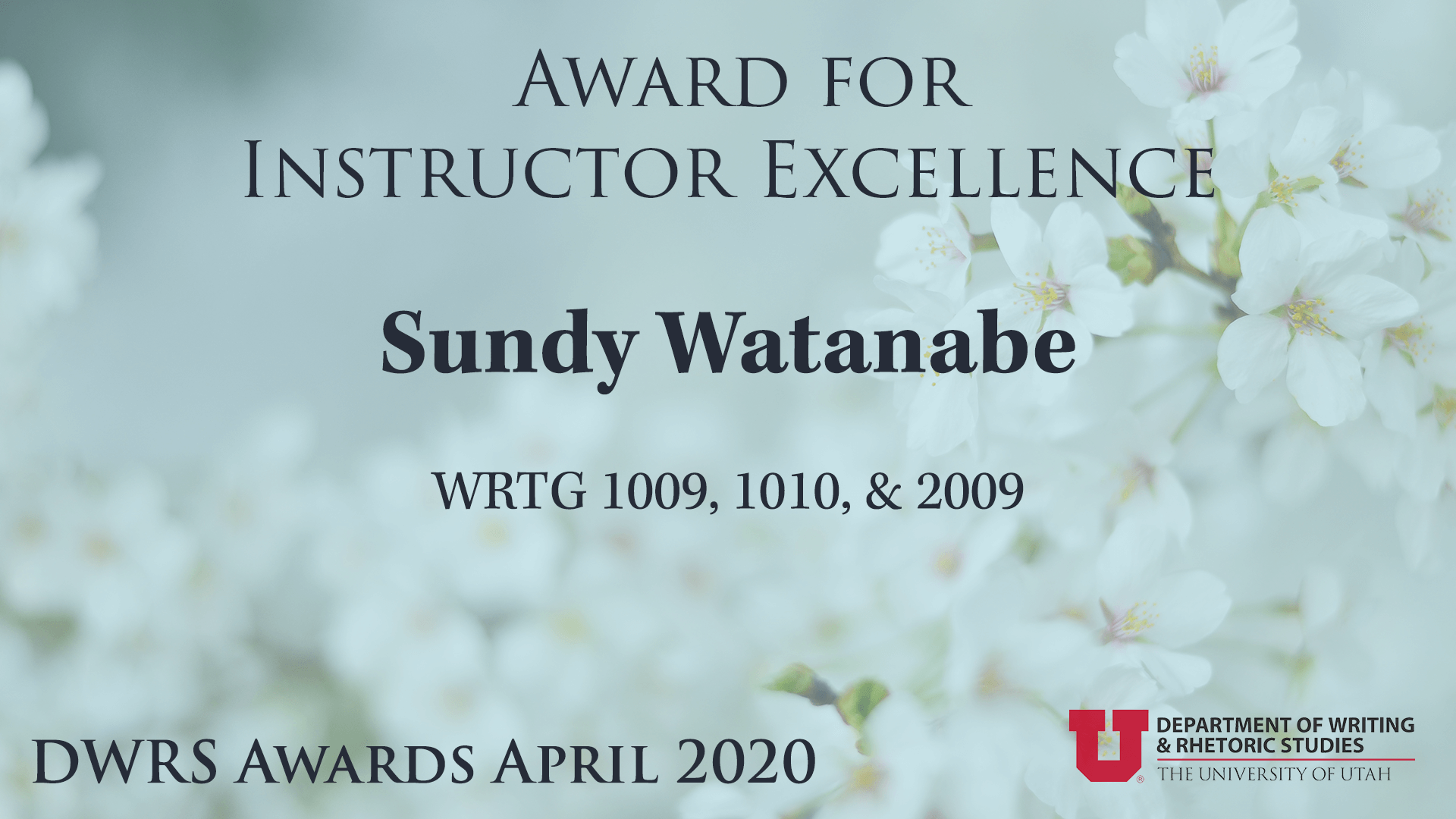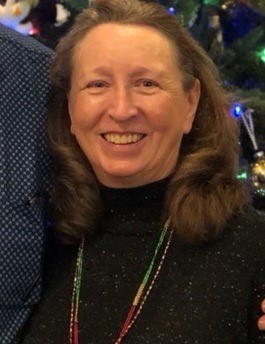 Dr. Watanabe believes that effective teaching and learning arise from respectful and reciprocal interactions, which must be deliberately built and preserved as instructors and students engage the conceptual content of a course and discover its practical application in their lives.
Sundy Watanabe (PhD) teaches early college, transitional/multimodal, first year, and Honors writing, as well as undergraduate and graduate level writing center practicum, Utah Global, and foundations of education courses. Her teaching advances access and retention for marginalized populations, focusing on intersections of cultural rhetorics and writing praxis within institutions of higher education.
In addition to teaching responsibilities, Dr. Watanabe is currently conducting qualitative research on campus/departmental climate in conjunction with the Office for Inclusive Excellence and the Department of Family and Preventive Medicine. Previous projects were similarly conducted in the School of Medicine and the College of Mines and Earth Sciences at the University of Utah.
Dr. Watanabe's most recent scholarship, "Intercultural Collaboration: Respect, Relationship, Responsibility, and Reciprocity" was published in Sojourning in Disciplinary Cultures: A Case Ctudy of Teaching Writing in Engineering (Maureen Mathison, editor). Other chapters include "Socioacupuncture Pedagogy: Troubling Containment and Erasure in a Multimodal Composition Classroom" in Survivance, Sovereignty, and Story: Teaching American Indian Rhetorics (Lisa King, Rose Gubele, and Joyce Rain Anderson, editors) and "Critical Storying: Power through Survivance and Rhetorical Sovereignty" in Crafting Critical Stories (Judith Flores Carmona and Kristen V. Luschen, editors). Dr. Watanabe has also published articles in the Journal of American Indian Studies, Elektric, and Western Humanities Review.
Maria Alberto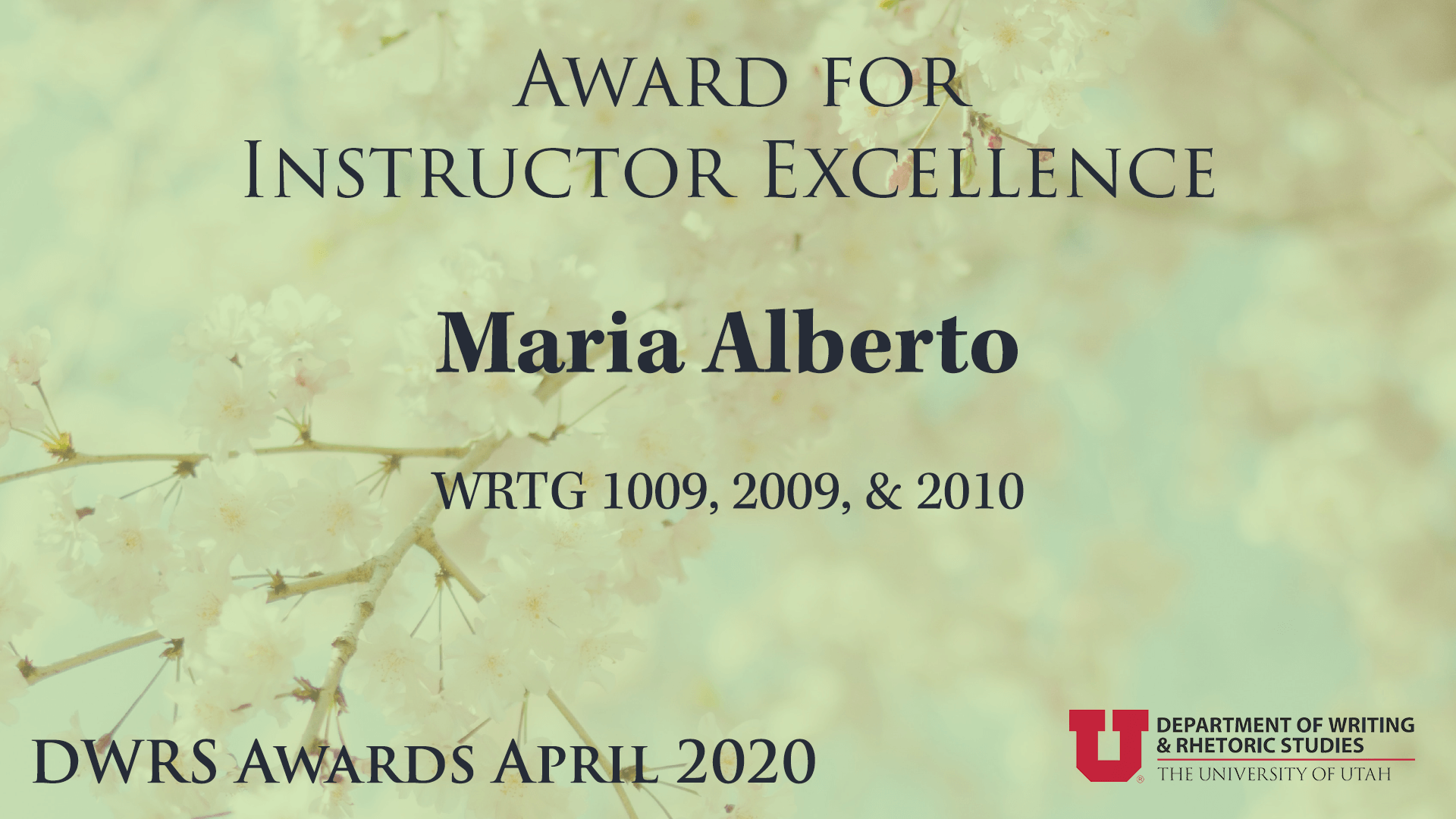 Maria Alberto is a third-year PhD student at the University of Utah, where she studies adaptation, popular culture, and the influence of digital media. She also teaches first year writing courses such as WRTG 2010, where she encourages students to think about the persuasive purposes of media and texts they see every day.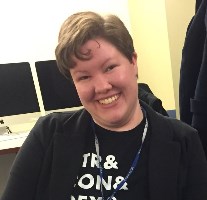 I'm so honored to learn that I've received this teaching award! It has been a fantastic experience teaching writing courses here, and I'm delighted that my students have found them a good experience too.
Department Chair Award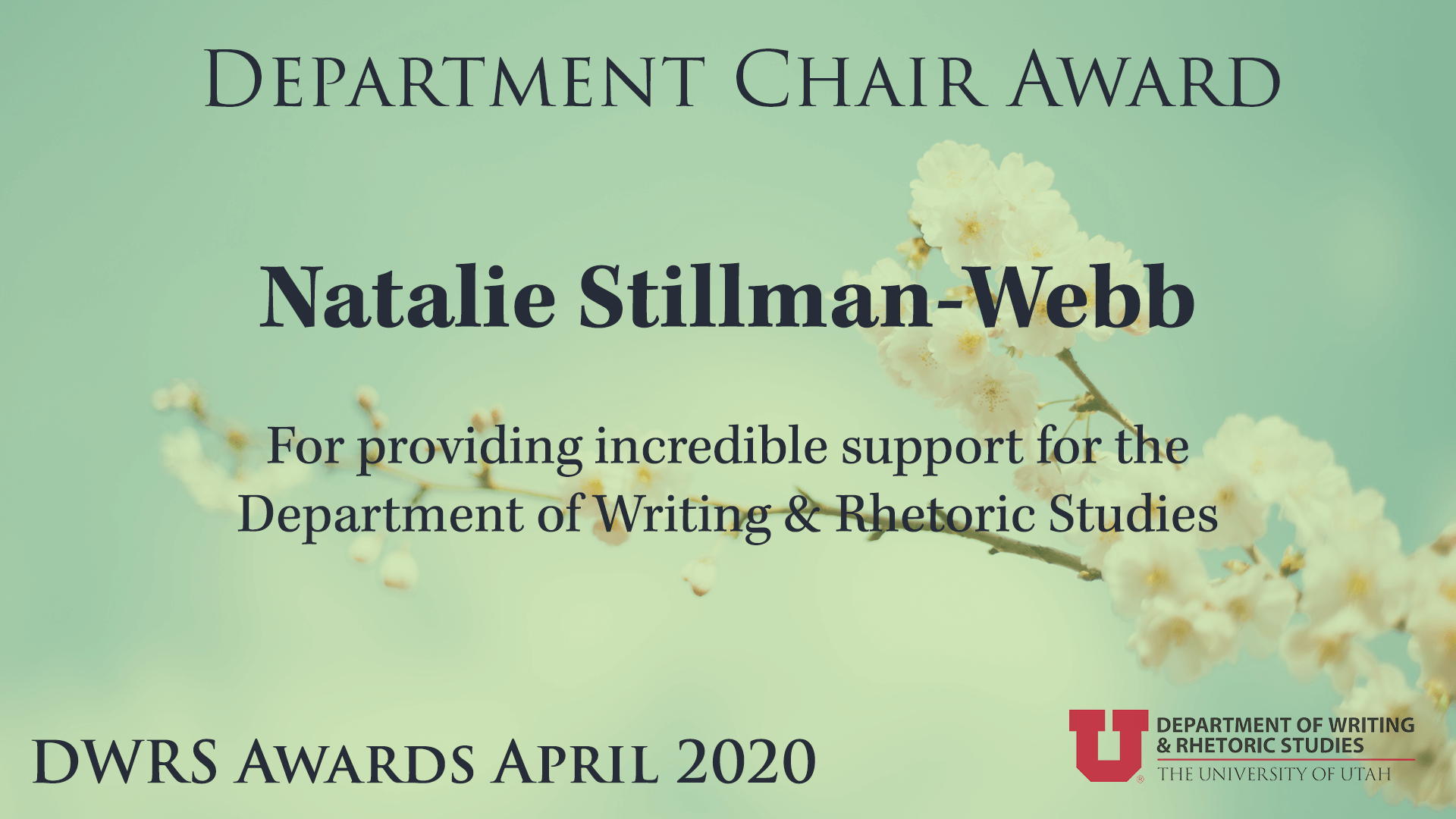 Natalie Stillman-Webb
This Award is given by our Department Chair, Dr. LuMing Mao. Recipients are awarded for their positive impact on the Department of Writing & Rhetoric Studies.
Dr. Natalie Stillman-Webb has been the department's leader in online teaching and training. She has been serving as the Coordinator of Online Writing Instruction in the department for the past three years. Every fall she teaches a graduate seminar, "Online Writing Pedagogy," to mentor and train our graduate students. She regularly presents on online teaching best practices at the department's Forum on Teaching & Research.
As we began to fight COVID-19 and adjust to this "new" normal, Natalie's leadership in and her commitment to excellence in online teaching has proved to be all the more consequential. Even before the University decided to move all classes online, Natalie started working to prepare for that eventuality, joining the Global Society of Online Literacy Educators (GSOLE) at the University level and helping the department develop contingency plans. Once the University made the decision, Natalie went to overdrive, developing resources to help our colleagues migrate their courses to the online platform, anchoring weekly webinars, answering questions from, and providing other necessary support for, individual instructors with their online teaching, and lending her expertise and assistance to other departments like English and Communication—to name just a few.
Through it all, I am witnessing in the front row a colleague who works assiduously to support online teaching in the department and beyond, and who provides steady leadership and wise counsel whether we are in normal times or under these stressful conditions. Therefore, I cannot think of a more fitting recognition of her contributions to the department than according her the inaugural Chair's Award this year.
Congratulations, Dr. Stillman-Webb!