Writing Opportunities for Transfer Students
Welcome! No matter what your major or career goals, writing will be important to your success. The Department of Writing & Rhetoric Studies (WRS) is here to help you become an effective and flexible writer in your U classes and beyond. WRS has put together this guide to writing resources on campus to help you get started and enjoy your college experience.
Writing Courses for Transfer Students
WRTG 3020: Write4U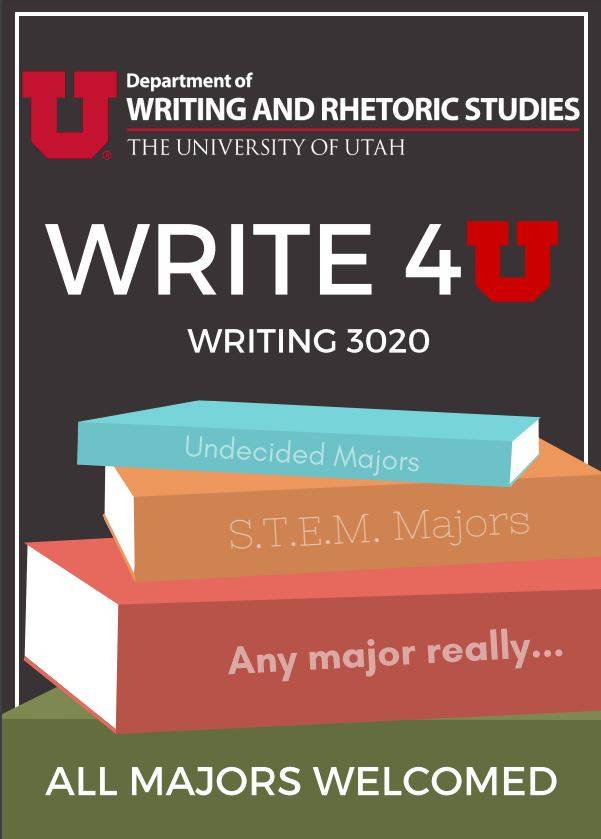 WRTG 3020: Write4U is an upper-division course for students who are new to the U and have completed the Writing 1010/2010 requirement elsewhere. In WRTG 3020, students:
Critically investigate writing practices in their major discipline
Get supportive feedback on writing projects over multiple drafts
Connect with peers, faculty, staff, and campus resources


WRTG 3020 fulfills the upper-division Communication & Writing (CW) and Humanities Exploration (HF) general education requirements.
For students majoring or minoring in Writing and Rhetoric Studies, WRTG 3020 also fulfills the Professional or Academic Writing requirement.
Writing 3020 is rigorous and challenging but provides lots of opportunities for feedback and revision. The course will invite you to think critically about the values, practices, and power structures that shape writing in your field. It will equip you with additional tools for thinking and talking about writing across different contexts. Those tools are lifelong resources that will help you be an effective and flexible writer in academic settings, the workplace, and other communities that matter to you.
The Department of Writing and Rhetoric Studies currently offers WRTG 3020 every fall for recently arrived transfer students.
In Fall 2022, WRTG 3020 will meet on Tuesdays and Thursdays from 2:00 to 3:20 PM.
If you have questions about the class, please email writing@utah.edu.
---
Write4U@SLCC
If you are a Salt Lake Community College (SLCC) student, you are eligible to take a special tuition-free summer section of WRTG 3020 offered on the SLCC Redwood campus each summer.
This 3-credit course is open to any SLCC students in any major who have completed ENGL 2010 or 2100 and are interested in transferring to the U of U. You do not need to have applied or been admitted to the U of U to participate in Write4U@SLCC.
Write4U@SLCC is free to students of any documentation status.
For more information or to get on the list for Summer 2023, please email Associate Professor Christie Toth at christie.toth@utah.edu.
Writing Studies Scholars

Writing Studies Scholars is a program designed by SLCC transfer students in Writing and Rhetoric Studies for SLCC transfer students in Writing and Rhetoric Studies to help you get connected and reach your goals.

You are eligible to join Writing Studies Scholars if you are:
An SLCC transfer student AND
Majoring or minoring in Writing and Rhetoric Studies OR
Earning a Certificate in Professional and Technical Writing
Writing Studies Scholars benefits include:
A guaranteed $2000 scholarship
A tuition-free bridge course
Optional tuition-free study groups
Paid professional development opportunities
A diverse, supportive community of fellow transfer students


All Writing Studies Scholars benefits, including scholarship support and tuition-free course options, are available to students of any documentation status.
Resources for Transfer Students
The University Writing Center is here to help you become a more confident writer by providing individual consultations with peer tutors. Tutors work with students at any point in their academic career, from freshman year to graduate school, and they are eager to support transfer students transitioning to the U. They can help you with writing projects from any discipline, as well as with other important documents like personal statements and scholarship essays. The Writing Center is a free service for University of Utah students.
There are three ways to access the Writing Center:
Live, online tutoring (Zoom)
In-person tutorials at the Marriott Library (Room 2701)

Asynchronous, written feedback about your writing via the

Online Writing Lab

.
Synchronous online and in-person consultations are by appointment. For more information on available services, writing resources, and scheduling an appointment, visit the University Writing Center website.
The Marriott Library offers a wealth of resources for conducting research and using campus technologies. Reference librarians can help you find and evaluate sources for your research projects and cite those sources accurately. You can access their services in several different ways:
The library also has specialized subject guides for nearly every department on campus. These guides can help you find specific resources and research tools in your major or for writing-intensive courses in other departments. These guides are maintained by subject specialist librarians who are also available for individual research consultations.
The Marriott Library also offers access to wide range of writing-related technologies. Many library holdings are now available online as e-books, downloadable .pdf documents, and streaming video or audio. The Knowledge Commons checks out laptops, power cords, and other electronic equipment. They can help you set up campus wifi on your mobile devices, access free software, and print documents for class. The Knowledge Commons also offers a variety of reservable group and individual study spaces. Through the Creativity & Innovation Services, they can even help you write across a range of media, such as video and audio recording, web design, and 3D printing.
For more information about services and hours, visit the Marriott Library website.
Center for Equity and Student Belonging
Transfer Program Coordinator - Martha Hernandez
Our goal is to help with successfully transferring to and navigating the U of U. We provide services, resources, and community to help accomplish your goal.
If you have issues transferring credits, being admitted to the U, or have questions about transferring Martha Hernandez and her staff are a great resource!