2021 Announcements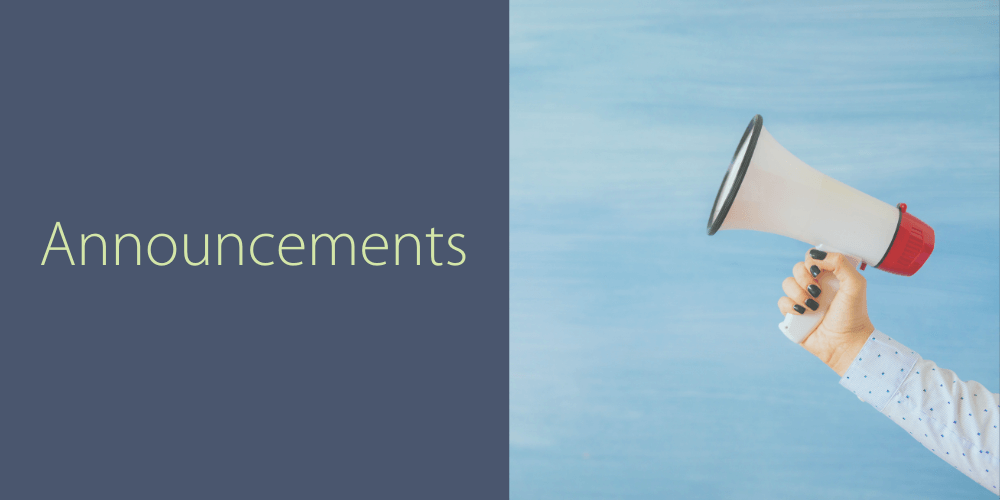 Productive Year for DWRS
Romeo García
Romeo has been selected to serve as a Presidential Leadership Fellow for the 2021-22 academic year. The purpose of this program is to engage emerging leaders at the University of Utah in the activities and work of the Office of the President and the President's Cabinet, and to foster continued advancement of leadership talent on the campus. Congratulations to Romeo.
He gave the following talks/workshops in the recent past:
Montgomery College: A talk/workshop with faculty from the English Department and the Learning Centers.
Fordham University: Part of a roundtable on the topics of anti-racism and decoloniality.
Texas A&M-San Antonio: A talk/workshop with faculty from the Department of Language, Literature, and Arts and with the Writing Center, respectrively.

Natalie Stillman-Webb
Natalie has recently published an article, "The Community of Inquiry in Writing Studies Survey: Interpreting Social Presence in Disciplinary Contexts," with her research team in the Online Learning Journal.
Was selected to serve on the University's Committee on Student Affairs for the next three years.
Gave a two-hour workshop on Digital Literacy for middle school and high school teachers in the Granite School District in early June as she continues to lend her expertise to support our community.

Jay Jordan
Jay's essay, "Future Perfect Tense: Kairos as Heuristic for Reconciliation," was recently translated into Chinese by Yuan Ying and Na Qian (both of Suzhou University), and the essay was published in Contemporary Rhetoric (Vol. 4, 2021), the premier rhetoric journal in China. Congratulations to Jay.
Jay Jordan's chapter, "Beyond 'coping' to natural language work," is part of the collection, English Across the Curriculum: Voices from Around the World, now available. Take a read when you have a minute.

Max Werner
Max has recently published two more essays:
Max Werner has also been selected to serve on the University's Academic Appeals and Misconduct Committee for the next three years.

Hua Zhu
Her dissertation, "Forging Interconnectivity: Enacting the Rhetoric of According-With," received Honorable Mention from Rhetoric Society of America.

Jenny Andrus
Jenny has been selected to serve on the University's Interdisciplinary Teaching Program Committee for the next three years.
Jenny Andrus has been invited to be on the "Statewide Implementation Planning Committee," which is a comprehensive statewide undertaking that outlines funding priorities and strategies for the Violence Against Women grant program, Victims of Crime Act Victim Assistance grant program, and the Sexual Assault Services Program grant program to enhance responses to victims of domestic violence, sexual assault, stalking, dating violence and victims of crime throughout Utah. The committee is made up of a select group of experts on violence against women and it will be doing important work, reviewing grants and allocating funds. What an honor, Jenny!
Jenny was also a respondent to a special performance at John Jay College (part of CUNY) called "Seeing Rape" this last April.

Trace Daniels-Lerberg
Trace has been selected to serve on the University's Teaching Committee for the next three years.
Trace has also been selected to serve a three-year term as editor for the NCTE journal, Forum: Issues about Part-Time and Contingent Faculty. Way to go, Trace! We look forward to you being at the helm for this journal.

Joy Pierce
Joy has been selected to serve on the University's Athletics Advisory Council for the next three years.

Teamwork
Our colleagues Jay Jordan and Hua Zhu have been awarded, respectively, with a 2021 International and Area Studies Curriculum Development Grant by the Center for Latin American Studies and the Asia Center. Jay will use the fund to redesign WRTG 4010 and to go UAC to further collaboration with our UAC colleagues on this course, whereas Hua will put the resources to redesigning, and incorporating Chinese and Chinese American rhetoric into, WRTG 4050. Congratulations to both.

Maddy LaTurner
DWRS/English double-major Maddy LaTurner (Class of 2021) is headed to Miami University's MFA program in creative writing for Fall 2021 with a fully funded teaching assistantship! Wonderful. Enjoy Oxford, Maddy.

Nkenna Onwuzuruoha
Pedagogue and DBLAC (Digital Black Lit and Composition) are collaborating on a podcast miniseries that amplifies the pedagogies, practices, writings, and lived-experiences of Black-identified graduate students. Each episode is a conversation designed to uplift and celebrate Black teachers-scholars-students-activists. A new episode was released every week this summer starting June 2nd, 2021.
The miniseries features the following voices:
KáLyn Banks Coghill (Virginia Commonwealth University)
Charlesia McKinney (University of Kansas)
James Eubanks (University of Alabama)
Ariana Brazier (University of Pittsburgh)
Benesemon Simmons (Syracuse University)
Melanie Davis-Sanchez (Texas A&M University-Commerce)
Veronica Joyner (George Mason University)
Christopher Peace (University of Kansas)
Nkenna Onwuzuruoha (University of Utah)
Kenneth Johnson II (Florida State University)
To follow along, please subscribe to Pedagogue on Apple, Google, Spotify, or wherever you get your podcasts. You can learn more about DBLAC by visiting their website and following on Twitter, Instagram, and Facebook. Go Kenna!

Nina Feng
And finally, but still amazingly, our PhD student Nina Feng was awarded both a University Teaching Assistantship and a Steffensen Cannon Scholarship for 2021-2022. What this means is that Nina will have the enviable and rare problem of choosing one. Our heart-felt congratulations to Nina.