Excellence in Writing Awards April 2022
Honoring outstanding students and instructors for the 2021-2022 academic year.
Excellence in Writing & Research Awards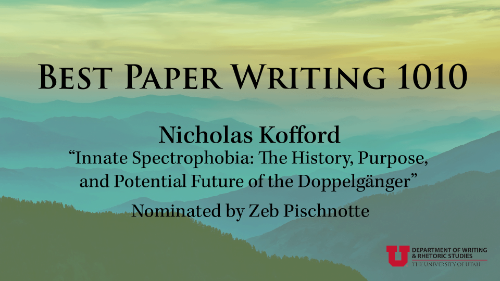 Winner: Nicholas Kofford
Paper: "Innate Spectrophobia: The History, Purpose, and Potential Future of the Doppelgänger"
Nominated by: Zeb Pishnotte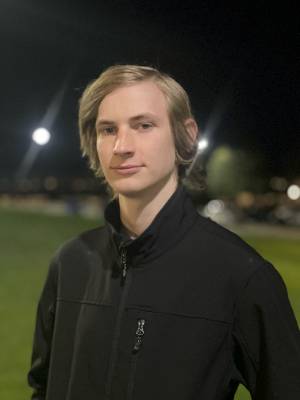 My major course of study is Computer Science.
I choose to write about Doppelgängers, because it was a topic I was interested in and one that I knew very little about.
My goal in learning is to obtain the skills necessary to independently support myself, in a career I'd enjoy.
"So Esau despised his birthright." - Genesis 25:34
In my version of WRTG 1010, we use the theme of monsters to practice the basics of academic writing. The semester culminates in a final project in which the students must conduct research on a monster they are interested in and write a paper using the summarizing, paraphrasing, and quoting skills we've honed throughout the class.
I had never had a student choose Doppelgängers before this. Oftentimes, when students choose an obscure topic, they have difficulty finding material to work with, but this was not the case with Nicholas. The paper was very well researched, drawing on far more sources than I required. It was also very informative and engaging: I felt like I learned a lot reading it, and it kept me interested throughout.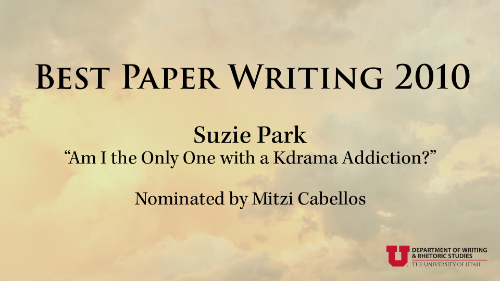 Winner: Suzie Park
Paper: "Am I the Only One with a Kdrama Addiction?"
Nominated by: Mitzi Cabellos
Hi, my name is Suzie Park and I am a pre med freshman student at the University of Utah majoring in Biology with an emphasis on Human Anatomy and Physiology. Both my parents are from South Korea, and although my fluency with Korean is not top tier, I love immersing myself in both the beautiful Korean culture and national sport.
On the often unseen side of my life, I am a second degree black belt at taekwondo, and I volunteer with teaching martial arts to young children at a Korean school. Some of my hidden obsessions include binging kdramas and singing or dancing along to almost any music I know. I also currently work as a Medical Assistant at a clinic, volunteer for the Red Cross, and will be a Residential Advisor for the U from 2022-2023. I have a huge passion for service and helping those in need whenever I can.
When studying, work, or relationships hit a rough patch, I motivate myself by remembering the many students and people who look up to me and the lives I have the ability to change as a physician in the future. My other option is to drown myself in kdramas until the never ending scenes of soft, sweet romance make me get back up again.
In this researched argument paper for WRTG 2010, Suzie Park did a beautiful job of combining academic rigor with her personal voice. As I read Suzie's drafts, I saw her experiment with tone and style in ways that are rare for 2010 students. Though Suzie's topic, K-dramas, seems fun and lighthearted, her discussion of cultural identity and her sense of belonging stayed with me for days after I read her work. Frankly, it is papers like this one, and students like Suzie, that are the reason why I love teaching. I am overjoyed to see Suzie recognized for her work.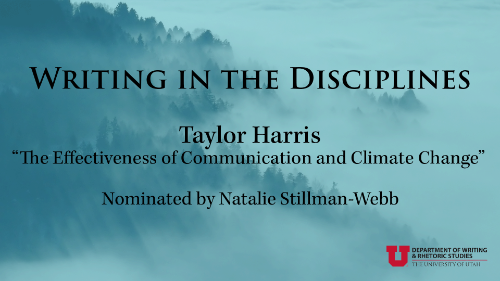 Winner: Taylor Harris
Paper: "The Effectiveness of Communication and Climate Change"
Nominated by: Natalie Stillman-Webb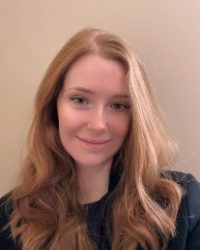 My name is Taylor Harris. I majored in International Studies and Writing & Rhetoric, and have now graduated and accepted a technical writing position at an engineering firm. In the near future, I hope to receive my Master's here at the U and continue my writing education. The piece I wrote is regarding a topic which is very important to me: climate change. So many people are climate resistant or unaware, and the message of climate action and sustainability does not reach ears very well. As someone with climate anxiety, I wanted to research the effective ways of communicating this global issue to everyone, regardless of political stance or location. My favorite quote is "Like most people, I made many mistakes in my life.I have many faults and I have many fears, but I am going to embrace myself as hard as I can, and I'm starting to love myself, little by little. What is your name? Speak yourself!" by Kim Namjoon.
Taylor Harris was in my Research in Professional Communication class last fall, and all of her work was outstanding, including her literature review on climate change communication. A literature review can be a challenging genre, as it can be difficult to avoid structuring it simply as a list of articles, Taylor did an excellent job of not only locating current, credible, compelling research but also synthesizing the research findings and making sense of them. Taylor demonstrated the traits that researchers have found typify effective climate change communication, noting that audiences are more receptive to messages that involve trustworthy sources, a local focus, and positive rather than pessimistic language. I'm thrilled to see this fine work receive recognition!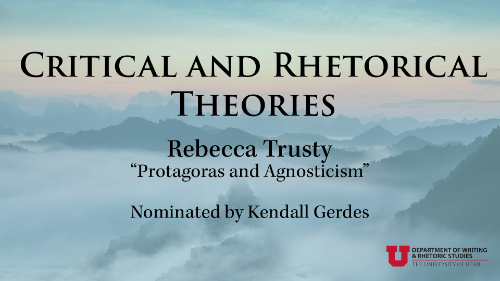 Winner: Rebecca Trusty
Paper: "Protagoras and Agnosticism"
Nominated by: Kendall Gerdes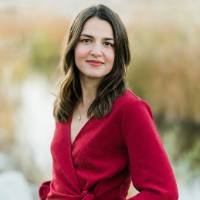 Rebecca is majoring in Writing and Rhetoric Studies with a minor in Creative Writing. While studying in Dr. Gerdes' Histories and Theories course, she was struck by the censorship of Protagoras' work, due to his agnostic beliefs. Intrigued by the concept that knowledge could be robbed if a community does not align with its creator's/writer's belief system, she chose to focus her final paper on Protagoras' agnostic beliefs and how they impacted the existence of his work and the future of agnosticism. Rebecca works as an associate and writer for Utah's most active Venture Capital firm where she produces and writes for the company podcast, manages social media, and supports local entrepreneurs with resources beyond capital. She's an avid writer of female-focused thrillers and enjoys backpacking across the expansive Mountain West backcountry.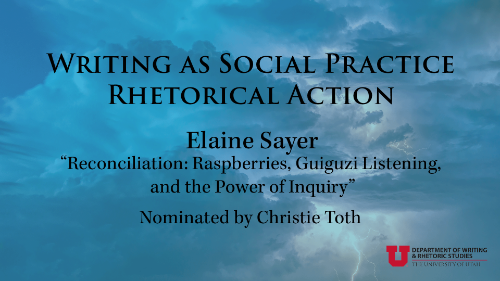 Winner: Elaine Sayer
Assignment: "Reconciliation: Raspberries, Guiguzi Listening, and the Power of Inquiry"
Nominated by: Christie Toth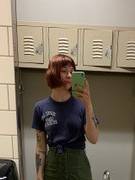 My name is Elaine Sayer (she/her) and I am a twenty-seven year old writer, multi-media artist, and full-time student. I achieved my A.S. in Writing Studies from Salt Lake Community College and am currently working to achieve my B.S. in Writing and Rhetoric with a minor in History from the University of Utah. My background consists primarily of a miscellany of service industry jobs and rather DIY creative and cultural experiences, leaving me often feeling 'untraditional' in the sense of trajectory, age, transfer, and overall student repertoire. Right now, I am working as a paid intern for the State of Utah's Artifact Collection and I'm hoping to eventually pursue graduate school in Archival Science. I love music, art of all sorts, being outside, going on walks, and as of late, playing chess (very poorly).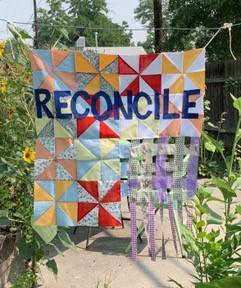 I wrote this autoethnography during my experience in the department's Writing Scholars' 3030 bridge program before I transferred to the U and everything regarding rhetoric was still very novel to me. (I say that as if I have any bit of a clue of how to define rhetoric - I still don't!) At that time, I was feeling an intense desire to reconnect with my family, but at the same time, felt as if I was growing into myself in ways that was forcing more space between us. Leaving the church had always left me feeling estranged, but I think these feelings were amplified when I became more serious about pursuing higher education. I guess in a way, the distance this caused wasn't quite as anticipated and came as a bit of a surprise. I chose to write this paper to act as a catalyst for my mind-body-heart work on this situation and I left the work feeling at peace with never quite reaching a solution. It made me wonder if oftentimes, reconciliation exists when things remain less definitive, leaving a little space to remain unresolved.
Elaine has a wonderful capacity to create vivid, multisensory narrative scenes, and I really appreciate how she brought that capacity to this autoethnography project. Those scenes and the complex, heartfelt discussions of identity, resistance, and reconciliation that they launch have stuck with me all year. I so admire Elaine's willingness to forego closure in favor of self-reflexivity about deeply consequential questions regarding the kinds of relationships that are possible across painful differences with people she has loved all her life.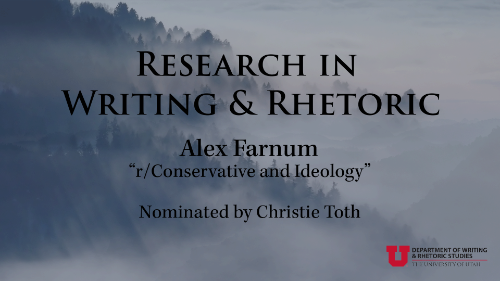 Winner: Alex Farnum
Assignment: "r/Conservative and Ideology"
Nominated by: Christie Toth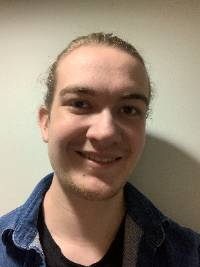 I'm pursuing a double major in writing and rhetoric studies and political science. This paper began as an attempt to bring together those two interests, using ethnographic methods to see what the rhetorical techniques used by an online political community can tell us about that community's goals, ideals, and worldview. In a world where online communication is only becoming more common, I believe it's vitally important to be able to understand the ways in which communities on the internet can attempt to bring people over to their ideologies. After my undergraduate degrees I plan to attend law school, with a focus on public interest law.
Alex really went above and beyond the requirements of this project in his observations and analysis of the r/Conservative subreddit. I was particularly impressed with his use of both quantitative and qualitative analysis of posts, the clear conceptual categories through which he constructed his analysis, his attention to how the mechanics of the reddit platform contribute to the ideological rigidity he observes, and his ability to frame his findings using key theoretical readings that enabled him to clear communicate why these findings matter.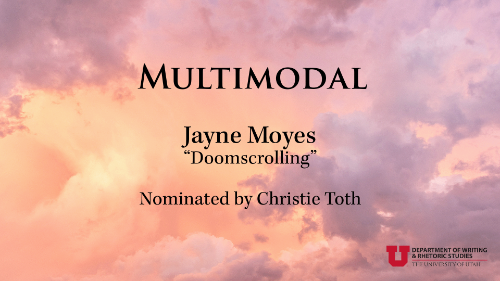 Winner: Jayne Moyes
Assignment: "Doomscrolling" (video)
Nominated by: Christie Toth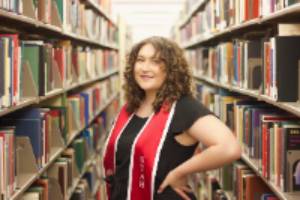 Jayne Moyes is a 5th year student in the Writing and Rhetoric department. During her time at the university, she has created and run a theatre production organization on campus called Open Door Productions and has written two plays as a part of the Department of Theatre's New Plays Workshop. After her graduation this summer, she hopes to continue writing for both business and pleasure.
About the project:
This project Doom Scrolling was completed as an assignment for the intro to writing and rhetoric course taught by Christie Toth. The question posed in the assignment, "what literacy event most impacted your life?" came at a time when I was finally realizing that the symptoms of a diagnosis that I had received years prior, and had left untreated, were catching up to me and impacting my life in every way. The intense shame I felt about having ADHD was finally diffused by stumbling upon an online community of others experiencing the same struggles as I was. TikTok, the app that had often perpetuated my procrastination and paralysis, helped me to come to terms with my own brain and its workings. Thank you for recognizing this project and for the opportunity to create it.
This spring, my co-teacher Elaine Sayer and I experimented with assigning a multimodal literacy narrative in WRTG 2040: Intro to Writing Studies. We weren't sure what students would submit, but Jayne's project blew us away. We really appreciated how she really leaned into the multimodal affordances of video and the aesthetic of TikTok to not just narrate an experience of coming into ADHD literacies, but to capture something of the embodied experience of neurodivergence as she has experienced it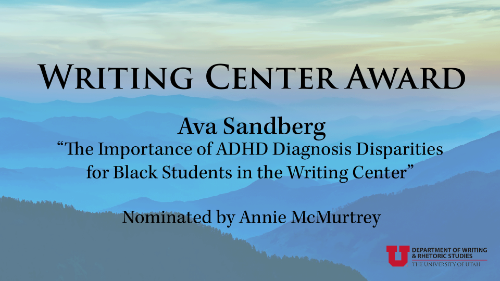 Winner: Ava Sandberg
Assignment: "The Importance of ADHD Diagnosis Disparities for Black Students in the Writing Center"
Nominated by: Annie McMurtrey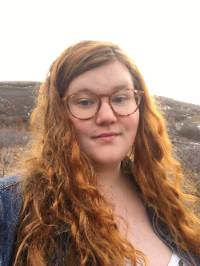 Ava Sandberg is a sophomore film student at the University of Utah. She loves to learn, write, and create.
This essay was the final writing assignment for WRTG 4020, a course devoted to writing center philosophy and best practices. The task was quite broad: write about any issue that we touched on this semester and do a "deep dive" into the issue. Ava found that she was interested in how tutors can best help Black women clients who have been diagnosed with ADHD. Her essay, "The Importance of ADHD Diagnosis Disparities for Black Students in the Writing Center," highlights the intersections between race, gender, and neurodivergence in writing tutorials. This timely piece should be considered for an Excellence in Writing Award – in the Writing Center category – because it is well-written and because its author handled the issue with care, social awareness, and intellectual rigor.
Instructor Excellence Awards
Excellence in Teaching Award, Faculty — Michael Mathison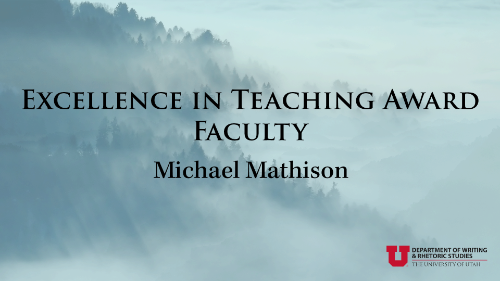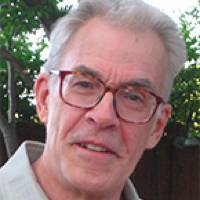 After many years away from college, I returned to pursue a degree in teaching. My love of education was established after having travelled the world for many years. While some may think of travel as tourism, my sense of travel involved learning as much as I could—being with the locals and understanding their histories, issues, and dreams. In learning from others, I realized I wanted to contribute to improving the world, starting in the classroom. I returned to college to dedicate my energies to supporting students' aspirations and help set them on their paths.
Teaching Philosophy
Teachers hold great responsibility to create environments where each student is a critical member of the classroom community. My goal as an instructor is to establish an inclusive environment by exposing students to different points of view in order to instill a sense of validation and respect of the knowledges and experiences they bring to the classroom. The world is not monolithic. My lessons involve readings from diverse authors, discussions about relevant issues, and assignments that support making cogent and thoughtful arguments about current topics. I believe it is important to have students engage with materials that not only expand the scope of their thinking, but also contribute to their empowerment in writing in various contexts: in college, in their professional, and in their personal lives. With COVID, the "normalcy" of the classroom changed. While I have always been attuned to my students' lives, it became more imperative to be an even better listener, a more compassionate ally, and a more flexible teacher.
In my many years of teaching, one thing has not changed: I hope my students come away with a strong sense of belief in themselves, confidence in their abilities, a curiosity for learning, and the need to ask questions not only of others, but of themselves as well.
Quirky
In my 20s I worked for Rudy Brothers Circus, the Delta Queen Steamboat on the Mississippi River, and I managed a ski shop in the Bavarian Alps as well as undertook several months-long backpacking trips through Africa and across the Sahara Desert.
Excellence in Teaching Award, TA Instructor — Jasmine Khaliq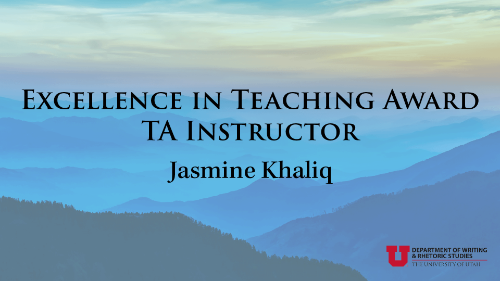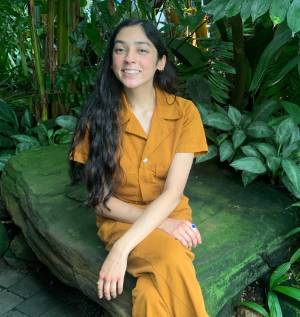 Jasmine Khaliq is a Pakistani Mexican poet born and raised in Northern California. She is a first year PhD student in the Creative Writing program at the University of Utah, where she also teaches and serves as Assistant Editor of Quarterly West. Her research interests include monstrosity, horror, Gender Studies, and Critical Race Studies. She holds a BA from San Francisco State University and an MFA from University of Washington, Seattle.
Teaching Philosophy
In my teaching, I deeply value what my students already know, who they are, what the come into class with. I want to cultivate an environment in which they feel respected and are safe to express themselves. I am frank about the power dynamic between us and attempt, as much as possible, to level it—one thing that's really important to me is that students begin to understand and see themselves as "real" writers: as capable, creative, and perhaps even empowered. I emphasize that writing is situated in the real world, and I ask my students to recognize that and take responsibility for their work. That allows for the other side of that coin: students seeing themselves as creators and seeing their creations as worthwhile. My hope in teaching writing is that I start a conversation they can continue for the rest of their lives about ethics, empathy, power, and expression.
Goals and Hopes for my Education
I look forward to, while I'm working on my PhD, producing a second full-length poetry manuscript. I'm hoping also to sooner or later get my first one published! I also love teaching, and hope after my PhD to continue teaching writing and literature at a University, Community College, or a high school.
Something Quirky
I don't know how quirky this is, but I am obsessed with horses and cows.
Department Chair Award — David Hawkins-Jacinto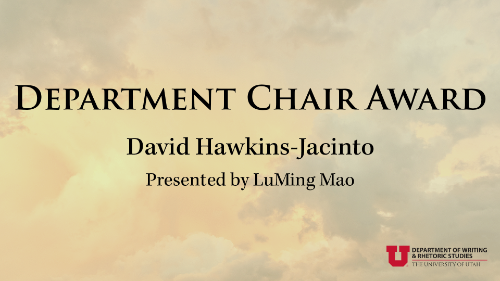 This Award is given by our Department Chair, Dr. LuMing Mao. Recipients are awarded for their positive impact on the Department of Writing & Rhetoric Studies.
---
Statement on Award Selection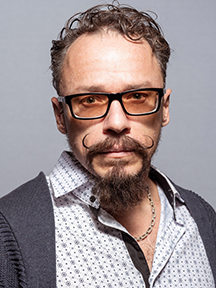 For this year, I select Dr. David Hawkins-Jacinto to receive this year's Chair's Award in recognition of his significant and ongoing contributions to the department and the University especially in areas of equity, diversity, and inclusion. Congratulations, Dave!!!
Dave has been an asset to the department since his joining us when we were still a program. He has taught a wide variety of courses for our undergraduate curriculum, ranging from first-year writing to upper division courses, such as Popular Nonfiction; Body Rhetorics, which he created; Visual Rhetoric; and Digital Publishing & Editing, which he also developed. He has taught and mentored graduate students. Working with the Division of Ethnic Studies, he also revised and taught Honors Writing. He is our undisputed leader in CEL—community engagement learning.
Dave must be commended for his singular contributions to EDI. His contributions to the Diversity Scholars Program, to CESA (the former Center for Ethnic Student Affairs), and to serving as an amazing liaison between the Diversity Scholars Program and the Honors College have been well documented. Since my arrival four years ago, I have seen, at the front row seat, how Dave works creatively and doggedly and collaboratively to advance the anti-racist and anti-bigoted work in the classroom and across the University campus. He has been a leader for the department in our EDI work. He is such a valuable member of our departmental inaugural committee on EDI, bringing his years of experience and unyielding commitment to the table. Just this past Friday, he led a workshop on understanding and composing diversity statement.
Beyond the department, his work and leadership on equity and diversity is equally praise-worthy. One of his most recent contributions was related to the Day of Collective Action in March, where, among other contributions, he led an EDI workshop. As Dr. David Derezotes, Chair of the Senate Advisory Committee on Equity, Diversity, and Inclusion (SAC-EDI), observes, Dave is the hardest working member of SAC-EDI, who has demonstrated "a strong commitment and investment in service and social justice on campus, and is a skilled and dedicated advocate for equity, diversity, and inclusion." Derezotes further states, "Dr. Hawkins-Jacinto is a wonderful leader, who leads by example, and who is consistently and appropriately sensitive and responsive to the people he interacts with. Dr. Hawkins-Jacinto is also an impressive scholar who has demonstrated his research and teaching skills in his work on his subcommittee."
In short, I cannot think of a worthier colleague than Dave to receive this year's Chair's Award. Congratulations and thank you!
— Dr. LuMing Mao