Writing Studies Scholars is a program designed by SLCC transfer students in Writing and Rhetoric Studies for SLCC transfer students in Writing and Rhetoric Studies to help you get connected and reach your goals.
We offer dedicated resources and a diverse, supportive community of fellow transfer students. Whether writing is your passion or a means of achieving your other aspirations, we want to help you make the most of your time at the U of U.
Writing Studies Scholars Program
Writing Studies Scholars is a community for SLCC students who major, minor, or pursue a certificate in Writing & Rhetoric Studies (WRS). All Writing Studies Scholars are eligible for the following benefits.
All students in Writing Studies Scholars receive an automatic $2000 scholarship during their first semester at the U of U. There is no application required. This privately funded scholarship is available to both full- and part-time students of any documentation status.
Writing Studies Scholars who are not eligible to apply for federal financial may receive an additional $2000 transition scholarship during their second semester at the U of U.
Any SLCC student considering the WRS major, minor, or Certificate in Professional and Technical Writing can take WRTG 3030: Writing across Locations for free. This 3-credit course is offered every summer on an SLCC campus. Enrollment is on a first-come, first-serve basis for up to 25 students per year.
In Summer 2022, WRTG 3030 will be offered in a hybrid online format with an optional face-to-face meeting on Tuesday evenings. The course will run from May 17-August 2.
WRTG 3030 connects you with the community of WRS teachers, scholars, and students in the Salt Lake Valley. It provides opportunities to:
Make friends with other Writing Studies Scholars
Meet faculty mentors
Identify your interests and possible professional paths
Learn about U of U resources and opportunities
WRTG 3030 is a writing-intensive course that helps you get a sense of the workload you can expect in a 3000-level course at the U of U. The readings, class discussions, and writing projects focus on how the field of writing & rhetoric studies engages with diversity, equity, & social justice.
We strongly encourage students who want to join Writing Studies Scholars to take WRTG 3030, but this course is not required for participation in the program. WRTG 3030 is free for SLCC students of any documentation status.
If you would like to get on the list for WRTG 3030 in Summer 2022, please email program director Christie Toth.
Lisa Shaw (she/her) is the academic advisor for WRS. She is happy to meet any time with SLCC students considering our major, minor, or certificate. It's never too early to connect with Lisa. You can sign up for an in-person or Zoom appointment with Lisa. Or email her at l.shaw@utah.edu.
Christie Toth (she/her) is a professor in WRS and the director of Writing Studies Scholars. She co-teaches WRTG 3030 and is part of your network of mentors at the U of U. If you would like to know more about Writing Studies Scholars, you can email Christie at any time.
The Writing Studies Scholars program can help you find and apply for additional scholarships throughout your time at the U of U. That includes applying for competitive scholarships advertised to all students as well as finding emergency funding and other need-based aid available through WRS, the College of Humanities, and across the University. We are committed to ensuring that no one in Writing Studies Scholars experiences delays in their education because of an inability to pay tuition.
All U of U students have free access to most UTA services, including park-and-ride options on TRAX. For students who must drive to campus because of work and/or family obligations, Writing Studies Scholars can provide an additional transportation subsidy scholarship equal to the cost of a parking pass for the U of U.
Writing Studies Scholars have the option to participate in an in-person or online study group with other students in the program each semester. These student-led study groups are organized at a time and location or modality that works with group members' schedules. The groups help you carve out time for coursework, connect with other students, and share resources.
Each semester, study group participants can enroll in one credit of WRTG 4910: Independent Readings for free. You earn that credit if you complete the following requirements:
Writing Studies Scholars may participate in the study group for credit for up to four semesters. These credits count toward the WRS major or minor. The free for-credit study group is available for students of any documentation status.
WRS offers a range of paid professional development opportunities exclusively for students in the Writing Studies Scholars program. These opportunities include:
Research and editorial positions with department faculty
Teaching assistant positions in WRS courses
Fellowships to work with student writers elsewhere on campus (for example, the Dream Center)
Program development positions in Writing Studies Scholars
Scholarships to participate in unpaid internships off-campus
Writing Studies Scholars in these positions sometimes have opportunities to present at academic conferences and/or write for publication with department faculty. You can often receive academic credit as well as financial compensation for participating in these activities.
These professional development opportunities are available to students of any documentation status.
From August through May, Writing Studies Scholars holds optional monthly events at varying days and times. Some events are face-to-face and some are online. Events in 2021 included:
A Welcome Back picnic at Fremont Park
A Zoom-based Open Mic night
An in-person lunch meet-and-greet
A Zoom-based alumni career panel
An in-person zine-making workshop
Writing Studies Scholars has email listservs for pre-transfer students, transferred students enrolled at the U of U, and program alumni. Pre-transfer and currently enrolled students receive a biweekly newsletter with information about upcoming events, resources, and opportunities.
Pre-transfer, transferred students, and program alumni also have the option of joining the Writing Studies Scholars Slack community. The Slack community is a place to post questions, share resources and opportunities, form study groups, and create channels or direct-message groups for courses and projects.
You can also follow Writing Studies Scholars on Twitter, Instagram, and Facebook.
Writing Studies Scholars alumni have gone on to law school and graduate study. They work as professional and technical writers, copyeditors, state and federal policymakers, educators and social workers, staff at non-profit organizations, online content developers, and healthcare professionals. Many are eager to help SLCC transfer students to navigate the job market and expand their professional networks.
Joining Writing Studies Scholars means joining a diverse and growing network of writing professionals (and professionals who write) in and beyond the Salt Lake Valley.
The Writing Studies Scholars program has an Advisory Board made up of pre-transfer students, students currently enrolled at the U of U, and alumni who guide decision-making about the future of the program. Advisory Board members receive a small honorarium to compensate them for their time. The Advisory Board meets once a semester via Zoom, and meetings are open to anyone in the Writing Studies Scholars community.
The Writing Studies Scholars program has additional resources for students who do not qualify for Federal Financial Aid due to documentation status. For more information, contact Christie Toth.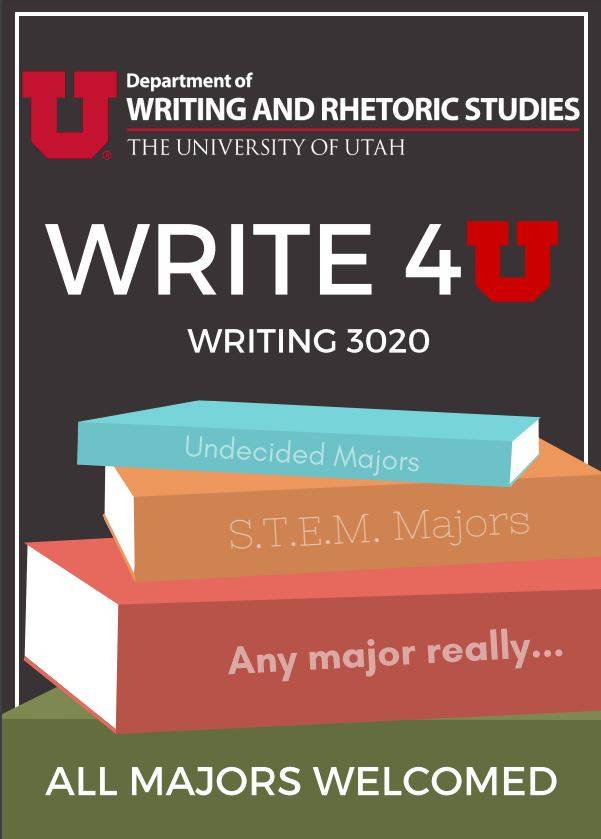 Pairing WRS with Other Majors
WRS is designed be a valuable double-major or minor that complements other areas of study and is accessible for transfer students. If you are an SLCC student interested in pairing an WRS major or minor with another discipline, you might benefit from taking both WRTG 3030: Writing across Locations and WRTG 3020: Write4U. WRTG 3020 invites you to investigate ways of writing in your other major. This course fulfills the U of U's upper-division Communication & Writing (CW) requirement and the Writing in the Disciplines & Professions requirement in the WRS major.
WRTG 3020 is offered at the U of U every fall for recently arrived transfer students. Every summer, we also offer Write4U@SLCC on an SLCC campus for students who are preparing to transfer to the U. This 3-credit U course is free for students of any documentation status.
If you are interested in taking Write4U@SLCC email program director Christie Toth.
---

Articulation with SLCC's AS
in Writing Studies
You do not need an AS in Writing Studies or English to join Writing Studies Scholars. However, completing the AS in Writing Studies offers many advantages. The AS in Writing Studies allows you to start earning credits toward the WRS major or minor while completing your associates degree.
Students in the AS in Writing Studies have been involved with many writing-related opportunities only available at SLCC, including:
WRS students who complete the AS in Writing Studies and take both WRTG 3020 and WRTG 3030 in the summer arrive at the U of U with 1/3 of their major courses or 2/3 of their minor courses already complete.
The following SLCC academic advisors work closely with students in the Department of English, Linguistics, and Writing Studies. You can contact them to learn more about declaring an AS in Writing Studies:
---
Additional Resources